Signing up for credit cards through partner links earns us a commission. Terms apply to the offers listed on this page. Here's our full Advertising Policy.
I've been digging into the Lufthansa Miles & More program because of the Barclaycard 50,000 mile credit card. This offer ends on June 30, 2014.
I could not find much information on the program, so I've spent lots of time studying how to avoid the high fuel surcharges, discounted award flights, stopover rules, extra award seats and other quirks of the Lufthansa frequent flyer program.  This will be the most comprehensive guide to using Lufthansa miles in English.
If you're new to miles and points, like my mother-in-law, there are better cards for you to apply for like the Chase Sapphire Preferred, Chase Ink Plus, or the other cards on the Hot Deals tab.  But if you've been doing this for a while, the Barclaycard Miles & More World Elite MasterCard could make sense for you – especially if you can use their miles for travel within the US and save your more valuable miles.  But make sure you know the quirks of the program BEFORE you apply.
There is another offer for 50,000 miles, with a lower minimum spending requirement, but you may get fewer miles if you're approved for a lower card with that offer.
"Using Lufthansa Miles" Series Index
Part 5 – Segments, Stopovers, & Open Jaws
Maximum Number of Segments
Lufthansa has strict requirements on the maximum number of flight segments.  This limits the connections which you can have on certain awards.
If you are allowed 2 flight segments on a oneway, this just means that you are allowed one connection or connecting flight.
Same region award – 2 flight segments per direction (4 per roundtrip)
Two region award – 3 flight segments per direction (6 per roundtrip)
Three region award – 4 flight segments per direction (8 per roundtrip)
See this post for more information on the different region awards with Lufthansa.
For example, if you are traveling from Atlanta to Seattle, you would be allowed only 1 connecting flight in Chicago to get to Seattle because you are traveling within the same region.
The limitations on the number of connections reduces your options for stopovers and also could make it harder to redeem Lufthansa miles if you can't find a flight with fewer connections.
For example, let's say you wanted to fly from Little Rock, Arkansas to St. Petersburg, Russia.  There are no direct non-stop flights between the two cities. In fact there isn't even a hub that connects the two cities!
You would have to fly a route like this:
Little Rock (LIT) to Chicago (ORD)
Chicago (ORD) to Frankfurt, Germany (FRA)
Frankfurt (FRA) to St. Petersburg, Russia (LED)
That's already 3 segments as in the picture below.
This means that you can't have a stopover in London, because if you added a stopover in London, you have 4 segments (see picture below).
4 segments is more than the 3 segments in each direction which is allowed on a two-region award!
Sometimes this won't be a problem, but if you are flying from a smaller city like Kansas City or if award availability is not great, you may not be able to complete your award within the 3 segment maximum (each-way) for two-region awards.
You could drive or use other airline miles or your Southwest Companion Pass to start in a hub city so you could save a few segments.  But this is hardly the most practical solution!
Stopovers and Open-Jaws
A stopover is when you stop at a city for more than 24 hours along the way to your final destination.
It is like a L-O-N-G layover where you can stay in a city for a longer time and see a second city in addition to your final destination.
An Open-Jaw is when you fly home from a different city than the one in which you arrived.
An example of a stopover could be a flight from New York to Moscow that has a stop in London (for as long as you want).
You could spend a week in London (the stopover) and a week in Moscow (the destination) before returning home.  You do not pay extra miles for a stopover.
An Open Jaw would be if you fly back to New York from, say, Frankfurt instead of Moscow.
Lufthansa has very generous stopover and open-jaw rules for awards.  They allow two stopovers and two open-jaws on a roundtrip award but there are limitations on where you can book a stopover.
Two open-jaws on roundtrip awards
One stopover per direction on roundtrip awards only
Stopovers are NOT allowed in the region of origin i.e. the region from which you depart
Stopovers are only allowed on trips that involve two or more regions (as defined in the Lufthansa award chart)

Stopover Rules
The Lufthansa website says that you have to call in to find out the stopover and open jaw rules, so I can't link to a page with the rules.
There are 5 rules for stopovers when you use Lufthansa miles.
1.   Stopovers Are Only Allowed on Round-Trip Awards
You CANNOT have a stopover on a one-way award.
2.   A Stopover Can Only Be Added on Flights That Cover More Than One Region

Regions are defined in the Lufthansa award chart.  Flights within North America (say between the US and Canada) are within one region and you cannot have a stopover.
You

can

add stopovers on a roundtrip from the US to Europe, or the US to Hawaii.

You cannot add stopovers on any trip within one region such as flights within the US, flights from the US to Canada, flights within Europe, etc…
Here is the list of regions and the list of countries that make up a region.
3.   You CANNOT Have a Stopover in the Region From Which You Depart
For example, if your flight departs to Europe from the US, you can add a stopover in Europe but NOT in the US.  That's because stopovers aren't allowed  in the "region of origin" when you use Lufthansa miles.
Let's say that you fly roundtrip from San Fransisco to Istanbul.
You CANNOT have a stopover in New York (JFK) because New York is in the same region as San Francisco (according to the Lufthansa award chart)
But you CAN have a stopover in Brussels because Brussels is not in the same region as San Fransisco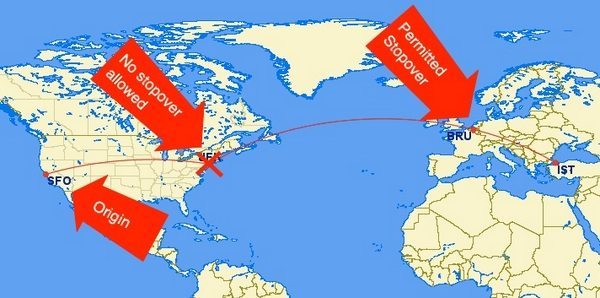 4.   Only ONE Stopover per Direction of Travel
The phone reps said that you can have one stopover on roundtrip awards before and after the "point of turnaround" or your destination.
Let's say that you fly from Chicago (ORD) to Moscow (DME).  You can have one stopover on the way to Moscow and a second stopover on the way back to Chicago.
You CAN have a stopover in Brussels (BRU) on the way to Moscow and a stopover in Vienna (VIE) on the way back.
But you can't have TWO stopovers before you get to Moscow, so you:
CANNOT  have a stopover in both Brussels and Vienna on the way to Moscow
5.   Stopovers Have to Be Booked Over the Phone

Unfortunately the Miles & More website does not have an option for including stopovers online.  The only options are either "Roundtrip" or "Oneway" awards.
So you have to call the Lufthansa Miles and More service center to book stopovers and there is no fee for making a booking over the phone.
The easiest way to search for flights is to search for awards, segment-by-segment on the Lufthansa website and then call Lufthansa to book the award if you are looking for Lufthansa or other Miles and More airline flights.
That's because you have access to more Lufthansa and other Miles and More flights when you use your Lufthansa miles than if you use other airline miles (say, United miles).
If you are searching for other airlines flights (say United), you can use the United Airlines website and search for flights at the low award level.  And then write down the flight numbers and date of departure and call Lufthansa to book those flights.
I wasn't always able to get the agent to book the flights which I had found segment-by-segment for First Class within Europe, but it was usually possible for the long distance flights and most flights in coach.  I suspect this was because of married segments and we'll talk about them in a future post.
This also means that you CANNOT have a stopover on the Mileage Bargains and FlySmart awards because those reduced priced awards are ONLY available online.
For example, you can't have a stopover on a Mileage Bargain ticket to Europe for 55,000 miles in Business class.
Maximizing Stopovers
Two stopovers and two open jaws is very generous and so is 50,000 miles for a round trip award to Europe.  Now if only Lufthansa didn't charge the high fuel surcharges!
You could potentially see a lot of Europe for only 50,000 miles in coach.
I wanted to verify that the agents were accurate so I tried to book an award with two stopovers and two open-jaws from the US to Europe in coach for 50,000 Lufthansa miles.
For example, you could fly:
From Chicago to London and stop in London for a few days or months (1st stopover)
From London to Warsaw (your destination) and stop for a few days or months
From Vienna (your 1st open-jaw) to Paris (your 2nd stopover)
From Paris  (your 2nd stopover) to Memphis  (your 2nd open-jaw)
The cheapest cash price for the same ticket with 2 open jaws and 2 stopovers was ~$2,240 in coach.
It cost ~$730 in fees for this crazy ticket but I didn't try to choose airlines which don't have fuel surcharges for trans-Atlantic flights like Polish LOT.
I was just curious to see what the booking process was like.
But this is still much less than the retail price for such a ticket.
The agent very easily booked this ticket and it took less than 20 minutes.  I fed the agent the segments which I had found previously.
It costs 50,000 miles for a coach roundtrip award from the US to Europe.  But you don't pay any extra miles for adding in stop-overs and open-jaws!
You could also try to fly Polish LOT to avoid fuel surcharges.
Do note that some airports in Europe (London etc.) charge more in airport taxes and fees than other airports.
It helps to know which flights you want before calling in, but the Lufthansa reps seemed willing to help me find flight on other airlines without much of the attitude which a US Airline rep would have given me (sorry, nothing is available.  click.)
Bottom Line
Lufthansa has a very generous stopover and open policy where you can get 2 stopovers or 2 open jaws on a roundtrip award outside of 1 region.  But they do limit the number of segments on each award which cuts into your flexibility.