Signing up for credit cards through partner links earns us a commission. Terms apply to the offers listed on this page. Here's our full Advertising Policy.
Lyn writes about flying free on Southwest with her family on her GotoTravelGal.com blog.  And has written a free ebook on how to earn the Southwest Companion Pass.  Emily and I believe the Southwest Companion Pass is the best deal in travel, because it lets you fly with 1 person nearly free with you for up to 2 years.
I've asked Lyn to explain Southwest's process for a child traveling alone.
Lyn:   As the child of divorced parents, I have flown alone since I was 6 to visit my father multiple times a year.  So I'm quite familiar with what it's like to fly alone as a child.  Flying so much when I was young helped contribute to my love of flying today! 🙂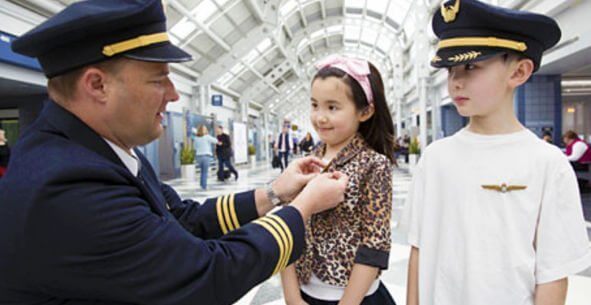 Procedures were different when I was growing up, and I never flew Southwest.  But I've compiled the latest information for what you need to know if you have a child flying Southwest as an unaccompanied minor.
What to Know About Unaccompanied Minors Flying on Southwest
Link:   4 Handy Tips for Flying With Kids on Southwest
Link:   The Ultimate Guide to Unaccompanied Minors
Southwest allows children age 5 and older to fly without another passenger age 12 or older.  Children between the ages of 5 and 11 are considered unaccompanied minors.
There is an additional $50 fee each way for a child flying as an unaccompanied minor.  And they can only fly on domestic non-stop flights or those with same-plane service, which does not require a change of planes.  Also, children can only be dropped off and picked up by authorized parents or guardians.
Southwest considers kids 12 and older "young travelers" and allows them to travel alone without the additional fee.
1.   Booking Your Ticket
You can book an unaccompanied minor the same as any other reservation, using either Southwest points or cash.
When you enter your child's birth date, you'll be asked if they will be traveling with someone over the age of 12.  Simply answer "no," and Southwest prompts you to fill-out a special travel document with parent or guardian contact information.
When booking, avoid the last flight of the day if possible.  Because if the flight is cancelled, there will be no other options for rebooking until the following day.  Double-check that all information on the ticket is correct.  And if it's not, call Southwest to make changes.
2.   What to Bring the Day of the Flight
On the day of the flight, arrive at the airport at least 2 hours ahead of departure at most airports.  You'll need to stop by the Southwest ticket counter to pick up an unaccompanied minor lanyard for your child to wear at all times throughout the process, as well as an escort pass that lets you accompany them to the gate.
Have this form filled-out and ready to give to the gate agent.
You'll also need to have:
The child's itinerary
Your photo ID
Your child's birth certificate
Name and contact information for the person picking them up at their destination
It's a good idea to have your child use the bathroom before boarding the plane.  They will pre-board before everyone else and will be introduced to a flight attendant upon boarding.  Be sure you stay in the gate area until the plane has taken off at which point, you can monitor its progress via the Southwest app on your smartphone.
3.   Picking up the Child
The person picking up the child should match the name provided to the airline upon check-in and drop-off.  This person will also need to bring a photo ID and a copy of the child's itinerary to check-in at the Southwest ticket counter and get an escort pass to allow them to go to the gate.  They should plan to arrive about 45 minutes ahead of the scheduled arrival, just in case the plane is early.
4.   Tips for a Smooth Flight
Once the flight is in the air, a flight attendant will check on your child periodically.  Upon landing, an airline employee will escort them off the plane to meet the person picking them up, who will need to show their photo ID.
Here are more tips for a smooth flight:
Send your child with a small carry-on bag that includes a copy of the child's complete itinerary with dates, airline name, flight numbers, departure and arrival times, and the reservation record locator number. The itinerary should also have your contact information, as well as for the person picking them up and an emergency contact, if possible
Pack a snack or sandwich because Southwest does NOT serve meals
As a child, I always carried a doll with me as a companion.  A stuffed animal, blanket, or other loved item can help keep the child from feeling alone or scared
Send younger children with an activity or coloring book for entertainment
Charge all devices beforehand, as there are no outlets on Southwest planes.  You can also send a portable charger and headphones so volume is not an issue.  Make sure they understand the crew's directions about when they can and cannot use their devices
Write their names (first initial, last name) on the inside of any clothing items that may be removed, like sweaters or jackets, which are a good idea due to temperature changes on the plane
Ensure your child knows never to leave with a stranger and explain that a uniformed airline employee or airport police officer are safe
The US Department of Transportation publishes a helpful booklet available online for more tips called "When Kids Fly Alone."  Here is the complete information from Southwest regarding unaccompanied minors.
Bottom Line
Southwest makes it as easy as possible for children to fly unaccompanied.  With some practice and preparation, they can enjoy a smooth, worry-free flight.  Here are even more tips when flying with kids as a family on Southwest!