Signing up for credit cards through partner links earns us a commission. Terms apply to the offers listed on this page. Here's our full Advertising Policy.
Update:   One or more card offers in this post are no longer available.  Check our Hot Deals for the latest offers. 
Last year, I wrote about the best ways to save money on car rentals.  At the time, 1 of the best tools to use was AutoSlash.  But they stopped working (properly) after a while.
But now, folks report that AutoSlash is back.  AutoSlash will track your car rental reservations for price drops, and re-book you at the lower rate if your rental becomes cheaper.
They'll watch reservations made with most major car rental agencies.  And if you booked your car through AutoSlash, they'll monitor your reservation automatically.
I decided to experiment again (not like this) to see if AutoSlash could save you money.
How Does It Work?
Link:   AutoSlash
AutoSlash is a free service which tracks your car rental reservations for price drops.  They'll re-book you at the lower price if they find one!
You can track existing reservations made with major car rental companies, or book your car through AutoSlash (and they'll monitor the reservation automatically).
I did some searches on AutoSlash to compare their prices.  And I made some dummy bookings with car rental companies for them to track.
What Are Their Rates Like?
You can search for car rentals on AutoSlash and they'll try to find you the best current, published prices.
Some searches give you immediate results.  For example, I searched for a compact car in Seattle next May, and they returned rates from Sixt and Payless rental car agencies.
If you book through AutoSlash, they'll automatically track your reservation for price drops and will re-book you with the same rental company if it does.
I made a (refundable) booking with Sixt (through AutoSlash).  The total price for the rental was ~$222.
This didn't strike me as the best possible deal, but we'll see if Autoslash finds lower rates as the rental date approaches!
Just to compare, I checked the Chase Ultimate Rewards travel portal for Seattle rental cars on the same dates.  The cheapest deal was for $260 with Alamo (also a refundable rate).
Note:   If you pay with Chase Ultimate Rewards points, they're worth 1.25 cents each.  So this could be a better deal for some folks.
I also checked Hotwire.  You don't find out the name of the rental company until after you book and pay, and the rate is non-refundable.  But they found the same type of car on the same dates for ~$187.
Within an hour of making the Sixt booking with AutoSlash, they sent me an email:
I responded yes, and they're re-booking me at the lower rate!
We'll wait and see if AutoSlash can find anything cheaper!
Note:   Remember to use a credit card that offers primary car rental insurance (CDW), like the Chase Sapphire Preferred or Chase United MileagePlus Explorer.
Even if you book your car through AutoSlash, the purchase is from an actual car rental agency, so you'll get the credit card insurance coverage.
Tracking Current Reservations
I wanted to see if AutoSlash would truly monitor reservations, find lower rates, and re-book you.  So I made refundable bookings with different rental agencies in various cities, between 2 weeks and 8 months ahead of time.

1.   Washington, DC
I booked a 1-day rental in Washington, DC, with Budget car rental.
After the reservation was confirmed, I entered the confirmation number and booking details on AutoSlash.  That included my name, email, rental dates, car rental company, reservation number, and total price.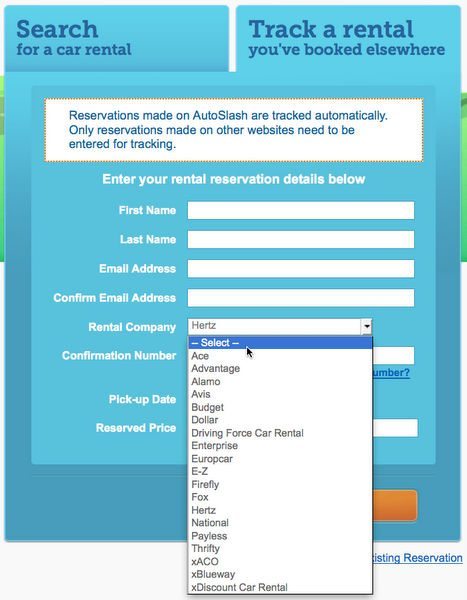 I got a confirmation email shortly afterwards, saying that AutoSlash is now tracking this reservation.  They also offer to search for cheaper rates at other rental companies for you, if you wish.
I booked this reservation ~2 weeks prior to see how AutoSlash performs with short notice!
2.   Austin
I made a week-long booking with Thrifty in Austin.  It's during a busy travel time, so the rate is expensive.
Again, I submitted the reservation details to AutoSlash.
3.   Kauai
A compact car in Kauai this April, booked with Hertz, costs ~$239 for 5 days.
I submitted this reservation to AutoSlash, too.
4.   Toronto, Canada
I wanted to see if AutoSlash had different luck with reservations in other countries, so I booked a car in Toronto, Canada, next summer for 2 days with Avis.  It costs ~228 Canadian dollars (~$202).
AutoSlash is now tracking this reservation, too.
The Results!
1.   Washington, DC



I got an email from AutoSlash 3 days before my booking.  They found a rate ~$26 lower than my original reservation.
That's not bad savings for a 1 day rental!
2.   Austin
AutoSlash emailed ~2 weeks prior to my reservation with a lower rate.  First, they saved me ~$167!
They emailed again about a week later, and found an even better discount.
A savings of $~206 is substantial!
Because my last 2 bookings are months away, I'll write an update post to let you know how much money AutoSlash saved me!
Bottom Line
AutoSlash is a free service which tracks your car rental reservations for price drops, and re-books you if the price goes down.
You can also book rentals directly through AutoSlash, and they'll track them automatically.
And it actually works!  AutoSlash found significantly lower rates on my 1st 2 reservations, for a total savings of ~$232.

I'll write an update post when I have information on my last 2 reservations.  So far, I'm definitely impressed!
Have you used AutoSlash?  What do you think?