We devote thousands of hours of research to help you get Big Travel with Small Money. You support us by signing-up for credit cards through partner links which earn us a commission. Here's our full Advertising Policy.
There are good changes to how you book American Airlines and US Airways award flights.  You can now use US Airways miles to book American Airlines saver AND standard level award tickets, and vice versa.
And American Airlines will now waive the $25 phone booking fee for award flights that can't be booked online.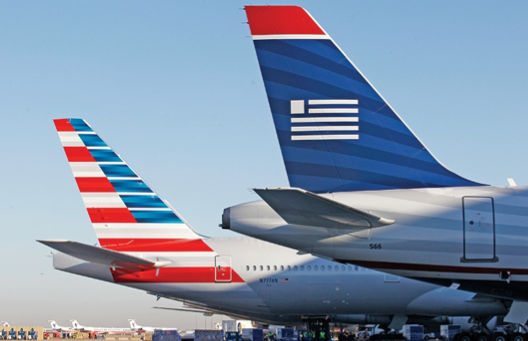 This is good news!  And another step forward in the American Airlines – US Airways merger, which should be complete by the end of 2015.
What's the Deal?
Link:   American Airlines Award Chart
Link:   US Airways Award Chart
1.   Changes to Award Ticket Booking
In the past, you had only been able to book saver (low-level) award tickets on American Airlines and US Airways using the other airline's miles.  And sometimes those aren't available.
For example, for a round-trip coach domestic coach flight, American Airlines charges:
25,000 miles (saver level)
40,000 miles (mid-level)
60,000 miles (high level)
The change also applies to Business and First Class award tickets.
2.   No More Phone Booking Fees for Awards That Can't Be Booked Online
Previously, American Airlines would charge a $25 phone booking fee if you called to make your award flight reservation.  Even if it was a booking that couldn't be made online!
For example, you can't book Cathay Pacific or Japan Airlines award tickets using American Airlines miles through their website.  You have to call.
Now, they'll waive the $25 phone booking fee.  That's a nice change!
However, if you do call to make a booking that CAN be done online, they've increased the charge to $30 for domestic award tickets, and $40 for international.
US Airways still charges an award processing fee, but hopefully that will go away as the merger proceeds.
Remember, your US Airways miles will become American Airlines miles, anyway.
And the Barclaycard US Airways card will soon be unavailable because of the merger (though existing cardholders will have their account converted to a Barclaycard Aviator card).
And there will still be lots of ways to earn American Airlines miles!
Bottom Line
You can now book any level of award ticket on American Airlines and US Airways using the either airlines' miles.
And American Airlines will now waive the phone booking fee for award tickets (like Cathay Pacific) that can NOT be booked online.  Although you'll pay more when you CAN book online but choose to call instead.
I'm looking forward to when the merger is complete, but in the meantime, these are positive changes.