"Don't wait. The time will never be just right."
Signing up for credit cards through partner links earns us a commission. Terms apply to the offers listed on this page. Here's our full Advertising Policy.
Welcome to the next interview in our interview series where renowned mile and point gurus share their insights on having Big Travel with Small Money!
Miles & Points Interview: Young Travel Guru
Young Travel Guru
is a great new blog which shows folks how they can travel to the places they dream about by using miles and points to travel when they are young and not wait until they are retired.  I'm still (kinda) young and have places to see so I was very interested in chatting with Newman about miles and points!
How and when did you start collecting miles and points?
I started collecting miles when I was a youngster traveling from Houston to Amsterdam to see my grandmother.  At this point in time I was not even aware that I was accruing miles.   She had moved over there before I was born and I always looked forward to our trips to go see "Big Mama" (great name for a 5 foot 100 lbs. grandma).
My first transatlantic flight was before the age of two to London.  Of course I don't remember much, but the pictures look like I was having a blast (I was a bit of a wild child).  My father was very diligent about putting our frequent flyer numbers on our tickets before I really knew how valuable the miles could be.
My dad truly sparked my interest when he would come back from long business trips in which he would fly around the world and earn enough miles on his trip for free flights when he got back.  His stories about far off places and wild adventures instilled a passion for travel inside me. 
Why did you start Young Travel Guru? What's special about it?
I started Young Travel Guru to help open the eyes of young guys and gals like myself to the endless possibilities of traveling and seeing the world for little or no cost.  If I would have known then what I know now my life and adventures would have been drastically different.
I am sure that are young people wondering and stressing about what they are going to do for Spring Break this year? New Year's Eve? Or a random summer trip?
Why not go where ever they want by using miles and as close to no cash out of pocket as they can!  This is the way of the Young Travel Guru and I want to pass this knowledge on to the youngest and next generation of Travel Hackers.
YoungTravelguru.com is about seizing life's opportunities and making the most of them.  It's about not waiting until you are 59 ½ to finally get to live your dreams.  Who knows what that Retirement account or Roth IRA is going to look like that far in the future.
Many Americans have put their bucket lists on the back burner hoping to fulfill their dreams once they are financially secure just to see the economy roll over like an old dog.
Do you think you are going to want to Run with the Bulls in Spain or go cage diving with Great Whites off the coast of South Africa when you are much older?  The chances are probably slim to none, unless you are the travel hacking equivalent of Evel Knievel, which some of you might be.
The answer is probably NO.  Don't chance living your dreams and dominating your bucket list by putting them off until retirement.  Using miles and points can help you travel the world at a fraction of the cost before you get that big promotion or are financially set to retire.
No one can see the future and no one knows what your health will be like (or if you even have a pulse) that far down the rocky road of life.  This blog is meant to inspire young people to take life by the jugular and live it to the fullest.
What's the one single thing people can do to get more points?
Shopping online.  It's as easy as that.  If you are one of the savvy consumers that holds the incredible power of the Chase Sapphire Preferred card or Ink Bold card in your wallet then you are probably already doing this.
I am a HUGE fan of purchasing every day amenities online whenever it is possible to rack up points simply by changing your method of purchase.  The Chase Ultimate Rewards Mall is second to none in my eyes and helps shoppers by increasing their point earning capacity many times over.
Shopping online also has the added perk that you don't have to leave your house and battle the traffic, if you live in a large city and you can also shop from the comfort of your pajamas if needed.  It saves you time, gas money, and you amass tons of miles and points for making the same transactions you would have otherwise.
These online merchants normally offer a lower price because they don't have to deal with the overhead of a store front.  If you haven't begun shopping online then this will surely take your mileage/point earning game to the next level.
What's your most memorable travel experience?
Just like for any other person that loves to travel I find this to be a pretty tough question.  I would have to say that my most memorable travel experience was traveling with my girlfriend to Oktoberfest in Munich last year.
It was nothing short of my expectations and we had a wonderful time.  We parlayed this adventure with a few nights in Berlin (prior to Oktoberfest), a short stay in Interlocken, Switzerland (after Oktoberfest) and finished with a few nights in Paris.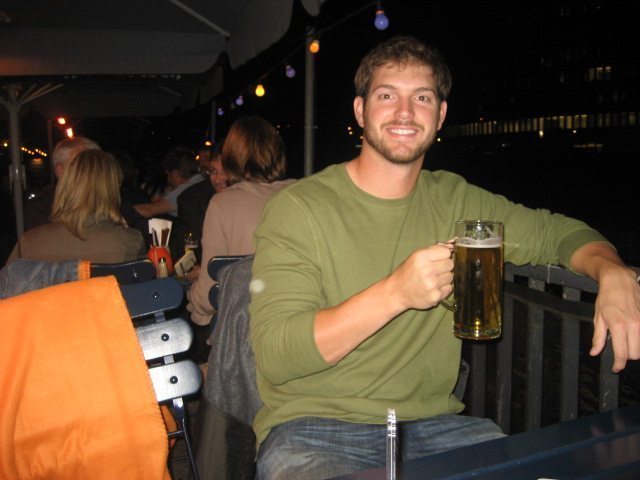 There are a few other trips that hold a close second, but I'll have to say this is the winner for now.
What do your friends and family think of your miles and points hobby?
My family finds it fairly interesting.  I have always been the one in the family to seek out deals on just about anything growing up.  My grandfather once joked that I would slide under the screen door to keep from waring the hinges out.  My dad loves the fact that I am earning tons of miles and points without actually flying or staying at a certain hotel.  He tells me about the days when you had to fly to actually get air miles and that he earned his the "hard way".
My friends love talking about different ways to save money because just about all of them are in the same boat as the rest of young graduates (clawing their way to pay the bills).  Any little tip that they pick up helps them save money and travel around to do things that they didn't realize were actually within their budget constraint.
My friends who have serious girlfriends seem to be the ones who have the most interest due to the fact that they will be footing the bill for a honeymoon in the near future.  I am currently helping four young couples take advantage of miles/points to make their honeymoon dreams come true without spending all of their nest egg.
The guys down in the bullpen (my colleagues/teammates) love to hear all about it as well.  There are only so much jokes and stories you can tell over the course of a season.  Being a bullpen guy does have its perks.  Eight of us sit down toward the club house and hang out for two thirds of the game and then come in to either save the day or keep the game close.
I have put on full scale classes about miles/points during games to help my teammates understand their earning capabilities and how they can crush their bucket lists without spending a ton of money during the time that we are waiting for the bullpen phone to ring.
I am sure you are wondering and the answer is, "No we don't use the bullpen phone for ordering pizzas or booking travel … yet".
Is there any tool or trick which you've found especially useful in this hobby?
There are two major things that I find very useful in the miles/point harvesting game.
The first is reading as much of MilePoint and FlyerTalk as I possibly can on a daily basis.  These two forums have INCREDIBLE amounts of information pertaining to all things travel.  It is a great place to get a feel for how in depth and how much work people put into finding out deals.  There are so many people who actively contribute and keep the mileage obsession on the cutting edge.
The second is reading fellow travel bloggers posts.  Many of the bloggers write for a full time job and work their backsides off to find the best deals and put them in an easy to find place right on their page.  I really respect the time and hard work that other bloggers devote to their travel passion.
What was the least expect way that you earned miles?
I would have to say that the two least expect ways that I have earned miles were by purchasing PetSmart gift cards online and using them at the store.  We have three dogs, so that racks up miles fairly quick.  It is nice to earn 4 miles per dollar rather than one.
The second would have to be purchasing the team "getaway meals" on my credit card and having everyone pay me cash for doing so.  I would put it on my Chase Sapphire Preferred and earn double points for "dining".
This racks up points quick when you are on the road as much as we are in the Minor Leagues you are buying A LOT of "getaway" meals.
What do you know about collecting miles and points which you wish you knew when you started?
I wish that I would have known the earning potential of credit card sign up bonuses and their actual impact of credit scores.  I was always scared to death that signing up for a credit card would kill my credit score or make it impossible for me to get a mortgage.
I only sign up for the big bonus cards or cards with huge everyday earning potential, this keeps my number of hard pulls fairly low per year, thus allowing me to not stress about future credit opportunities.
What would readers be surprised to know about you?
I am currently a professional baseball player in the Detroit Tigers Organization.  I started youngtravelguru.com after having so many recent college graduates that I know ask what they can do to earn miles and points in order to dominate their bucket lists.
I have eaten either breakfast, lunch or dinner at the homes of Roger Clemens, Tommy Lee, Joe Montana, and Pamela Anderson all before the age of 22.  Hopefully Daraius, Brian Kelly, Gary Leff, Rick Ingersoll and Randy Petersen will be next!
I am fluent in Spanish and starting back upon my quest of Mandarin Chinese.  We do have one minor league player from Taiwan, so it will make spring training a bit more interesting.
I graduated from Pepperdine University with a degree in Economics.
I was awarded Best Mustache in College Baseball in 2008 by Baseball America (quite the honor).
I am a huge DOG LOVER.  I grew up with an English Mastiff that Won Largest Dog in Houston Award four times!  We currently have Tallulah, a five month English Bulldog, who is a great help at finding travel deals.
Any parting words
"Don't wait.  The time will never be just right."
These aren't my words, but the famous Napoleon Hill's.  I think he hit the nail on the head with this quote.  These words hold tremendous truth in the travel hacking world.  If you haven't yet began to fulfill your dreams and conquer your bucket list by using points and miles then you should start NOW.
You might as well start now and take advantage of cheap travel while you can.  That's what the youngtravelguru.com is all about.
The second thing is help your friends learn more about earning miles and points.  Use great blogs like this one to help others understand their true earning and travel potential.
Don't hold back on helping others, they will surly appreciate it.  The more friends that you travel with the more fun you will have.  We are all in this together and we might as well have as much fun as we possibly can.
Newman
– Thanks for sharing your thoughts on having
Big Travel with Small Money!
Or like me on Facebook or follow me on Twitter.
Related Posts:
Editorial Note: We're the Million Mile Secrets team. And we're proud of our content, opinions and analysis, and of our reader's comments. These haven't been reviewed, approved or endorsed by any of the airlines, hotels, or credit card issuers which we often write about. And that's just how we like it! :)