Signing up for credit cards through partner links earns us a commission. Terms apply to the offers listed on this page. Here's our full Advertising Policy.
Don't forget to follow me on Facebook or Twitter!
Emily:  Daraius and I went to Key West for a few days in October for a mini-vacation.  We drove from Fort Lauderdale to Key West on the Overseas Highway, which was a very nice drive.  We stayed at the Hyatt Key West Resort and Spa, and had a wonderful time relaxing and seeing the Key West sites.
A Quick Trip To Key West, Florida Index
Part 3 – Things To Do In Key West
This post will highlight various sites in Key West that we visited, including:
Dry Tortugas National Park Day Trip
Mallory Square
Bike Ride around Key West
The Southernmost Point
Duval Street
Activities in Key West
Dry Tortugas National Park
Daraius planned a day trip from Key West, and surprised me with a trip to the Dry Tortugas National Park.  Since it was a national park, we were concerned that it would be closed due to the government shutdown because we had bought tickets to visit on October 1, 2013 which was the 1st day of the shutdown.
Fortunately, they were allowing folks to visit up to October 2, 2013 so we were extremely lucky!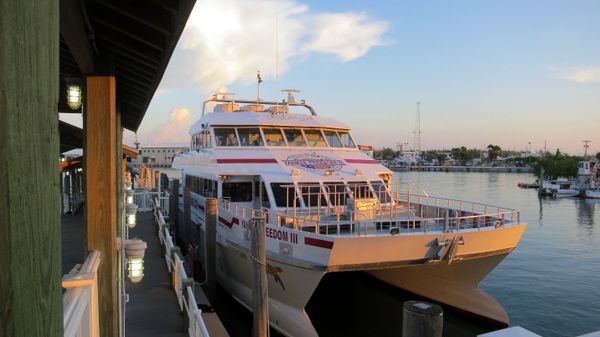 We woke up early to go to the park ~ 6:00 am.  We had to be at the pier at 7:10 am for our 8:00 am departure.
Daraius:  The Dry Tortugas National Park is 70 miles west of Key West and is accessible only by boat or seaplane which makes it less visited than other national parks.  It seemed like just the kind of place – with beaches, sand, and snorkeling – which Emily would love to visit!
I wanted to take a seaplane to Dry Tortugas, but that was over 3 times the cost of the ferry!  But the seaplane cost $280 for a 4 hour trip and $495 for a full day trip.  That was quite expensive for us…plus we wouldn't get any miles!
So we paid $165 per person for a ticket which included the ferry, breakfast, lunch and the national park entrance fee.  It takes about an 2 hours each way by ferry and you get 4 hours at the Dry Tortugas before heading back to Key West.
Emily:  The tickets included breakfast, lunch, coffee, tea, and soda throughout the day, and snorkeling equipment.  There is a lot to do on the island including camping, swimming, snorkeling, and visiting the fort.
We got a Garden Key and Fort Jefferson map that detailed where the good snorkeling spots were and where not to snorkel.
It was a two hour trip to the island.  We had breakfast, took a little nap, and enjoyed the views.  Daraius went outside the cabin and had a nap on the front of the ferry.  It was too windy for me over there, so I slept on a chair at the back of the boat!
Breakfast consisted of bagels and cream cheese and butter…
hard boiled eggs, deli meat, grapes, canned pineapple chunks, and cheese cubes…
yogurt, milk, cereal, and orange juice.
After 2 hours, we could see land.  We arrived at the island at 10:30 am.
The fort looked beautiful!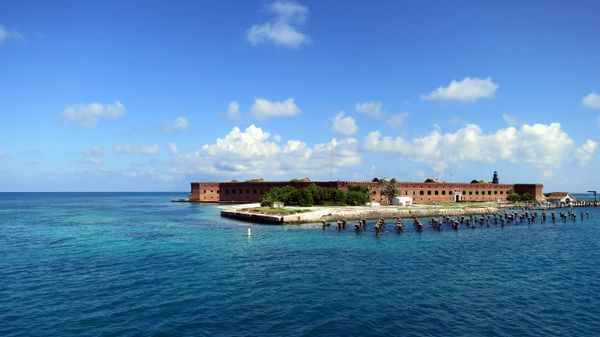 We were interested in taking the park ranger guided tour, so we signed up for the 10:45 am tour.
We got to see the lighthouse, the Garden Key Light, from a distance.
Chelsea was our guide, and she was easy to understand.  Her loud, energetic voice made the tour that much more enjoyable.  Her passion for the history of the island and the fort really shined through.
We learned about the purpose of building a fort in the Keys, the struggle for fresh water for the soldiers, and its infamous prisoner, Dr. Samuel Mudd.
Fort Jefferson was huge!  I was surprised to learn it was only 10 acres since it seemed much larger, especially with all the open space inside the fort.
The inside of the fort was designed to be large enough for army drills.
Daraius enjoyed it, too!
The views were gorgeous!
The gorgeous blue and green waters made me want to go swimming.
We loved exploring the fort, both inside and out!
The archways inside the fort were impressive.
You could see some of the corrosive effects of saltwater on the bricks.
After the tour, we went back to the boat for lunch.
We had a choice of turkey, ham, or tuna fish sandwiches, potato salad, fresh fruit, chips, and cookies.
I am very allergic to fish, and the staff were nice enough to keep a separate lunch for me in the fridge!
We also had a choice of soda and water (and also coffee and tea).  The food was pretty good.  Daraius liked the potato salad!
After lunch, I went snorkeling.
I read that the Dry Tortugas shores were supposed to have some good snorkeling, and it was true!  As soon as I entered the water, I saw schools of hundreds of fish.  I saw lots of different types of fish – big and small, white and yellow.
At one point, I was looking at what I thought were rocks, but were surprised to see them swim away!
After snorkeling for a while, I got out of the water to read a new book, a biography on Benjamin Franklin.  I started one chapter and knew it was going to be a great read and I wouldn't want to stop reading.
Since it was almost time to leave, I got in the water to snorkel.  I could have stayed out there all evening!
While we were there, we saw a camp site.  We both would have enjoyed spending an evening to ourselves on the island!
Mallory Square
We returned from Dry Tortugas at 5:30 pm, showered, and then went to Mallory Square.  It is only a 5 minute walk from the Hyatt in Key West.
Along the way, we saw many tour operators.  There were jet ski tours…
glass bottom boat tours, and a lot more!
At Mallory Square, we saw a beautiful sunset….
and several street entertainers, including a sword swallower…
two fire jugglers.  One rode a unicycle!
There were lots of musicians, street vendors, and artists.
Bike Riding
The next day we went bike riding around the town.  We rented bikes from the hotel which was $10 for four hours. This was one of our favorite activities!
We checked out another location near our hotel to see if it was cheaper, and they were offering bikes for $13 for 6 hours.  So walk around to find the best deal!
We didn't need the extra two hours, so we rented through the hotel and paid $3 less.
The bikes came with locks and baskets.
Daraius and I aren't Tour de France riders but we still went faster than the Conch Tour Train.  And this time, Daraius didn't stubbornly insist that we bike around entire Key West!
Key West is a small town with very friendly people and little traffic.  So we felt safe riding our bikes.
Our first stop was to the Little White House, which was the vacation home of Harry Truman.
We took a guided tour, and saw the bedrooms where Truman and his wife slept, as well as the poker table, bar, dining table, and living room where the first family spent their time.  Everything was preserved very well and you really got a sense of what it must have been like living there.
The tour lasted 45 minutes and cost ~ $16 each, and it also included a very interesting video with video footage of President Truman's life.  I enjoyed it very much!
Daraius:  I thought the tour was a bit short for $16, but Emily enjoyed it!
Hemingway House
Our next stop was to the Hemingway House.
The tours were held every 10 minutes and lasted for 30 minutes.  Tickets were $12 per person.  We saw the house where Hemingway spent almost 7 years of his life, and where he wrote some of his greatest novels.
The outdoor gardens were very pretty.
The highlight of the house are the many cats in the home.  Everywhere you looked there was a cat!  They were laying on Hemingway's bed…
in the gardens…
and even on the T-shirts for sale in the gift shop!
Southernmost Point
We were close to the alleged Southernmost Point in the continental US, so we rode there and took a few pictures.  We were only 90 miles from Cuba!
From the Southernmost Point we could see the radar dishes at the Naval Air Station.
You can save money on activities by doing some research online to try to find deals.
Go to Groupon.com and LivingSocial to see if there are any active deals you may be interested in.  The Krazy Coupon Lady also had several tips for cheap activities in Key West.
Fury is one of the largest tour operators in Key West and has some promos on their website, some of which were better than the flyer with prices at their street kiosk.
Duval Street
Key West has a lot of bars!  And most are on Duval Street.  We walked around town that night and saw a food cart on Duval Street.  Daraius love people watching!
We walked past the famous Sloppy Joe's Bar, but didn't go in.
There was even a clothing optional bar, the Garden of Eden, for the more adventurous.  We peeked inside, but since it was off season, there was virtually no one there!  The bouncer said that many folks walk into the bar, look around and then leave.
Bottom Line
Visiting the Dry Tortugas National Park was the highlight of our trip.  But we also love biking around Key West.