Our Anniversary to Italy: Part 27 – Activities in Rome – Where to Go, What to See, How to Save Time
Signing up for credit cards through partner links earns us a commission. Terms apply to the offers listed on this page. Here's our full Advertising Policy.
Don't forget to follow me on 
Facebook
 or 
Twitter!
Emily Jablon:  
Daraius and I went to Europe in September to celebrate our 2nd anniversary for ~2 weeks.  It was my first time in Italy so I was very excited!  In Italy, we visited Varenna on Lake Como, Milan, Venice, and Rome.
Since we were in Europe, we visited a friend in Strasbourg, France and also spent a night in Zurich.  We started our trip with a one day layover in Chicago to see friends!
Our Anniversary To Italy – Trip Report Index:
Part 27 – Activities in Rome – Where to Go, What to See, How to Save Time
This post will cover several activities and sights in Rome, including:
Daraius loved the Heart of Rome walk and biking around the Borghese museum gardens.  I liked visiting the museums!
Activities In Rome
1.   St. Peter's Basilica
After visiting the Sistine Chapel, we decided to climb the dome of St. Peter's Basilica.
St. Peter's Basilica is located within the Vatican city and is the world's largest church.  The dome was designed by Michelangelo in 1546.
The dome closes at 4:00 pm, while the church stays open to ~8:00 pm, so it was better to see the dome first and then go to the church.  We paid to take the elevator up part of the way (~127 steps) and then walked the rest of the way (~300 steps).
It sounds like a lot of steps, but it's actually a lot of fun because you walk through slanted hallways…
spiral staircases with a swing rope, and tiny passageways.
Inside the dome there's a Biblical quote. "Tu es Petrus et super hanc petram aedificabo ecclesiam meam et tibi dabo claves regni caelorum" ("You are 'Rock' and on this rock I will build my Church, to you I will give the keys of the kingdom of heaven." Matthew 16:18).
There were statues of Christ, John the Baptist, and 11 of the disciples on the roof of the building.
The climb was definitely worth it because not only was climbing the dome fun, but the views were spectacular.
We could see the entrance to St Peter's Basilica and the courtyard…
the Vatican Gardens…
and even our hotel up on a hill!
After climbing the dome, we followed the exit signs which took us directly into St Peter's Basilica!
Here we followed Rick Steve's walking tour, which gave us a great overview of the church.
There were statues on the sides of the church.
The dome seemed much higher from inside the church.
We saw the Papal Altar and Baldacchino.  The detailing was amazing.
When we were leaving, the guards stopped all the tourists from walking and waited for the priests to come out.  We thought with the dramatic entrance that it was going to be the pope!
2.   Heart of Rome Walk
In the evening, after dinner, Daraius and I set out on the "Heart of Rome" walk from the Rick Steves' Italy book.
This was very enjoyable and is best started just a little before sunset.  The monuments are lit up and there are (somewhat) less tourists.
Our first stop was the Spanish Steps which has great people watching.
We stopped at McDonald's for a quick meal.
Our next stop was Piazza Navona, which was a beautiful plaza that had the gorgeous Fountain of the Four Rivers
and great people watching.
There were many artists selling paintings…
as well as musicians.  Some were more talented than others.  One band was very good, and Daraius and I stopped to dance to their music.  We ended up buying a CD of theirs and look forward to listening to it.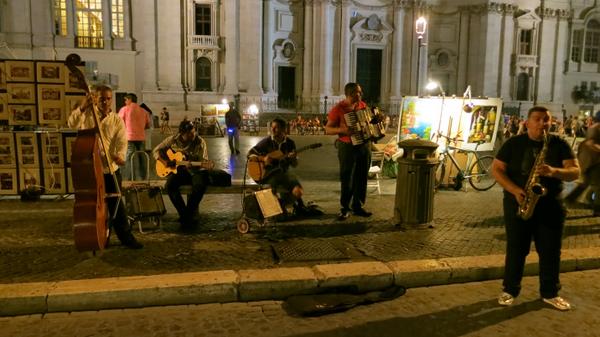 Then, we went to the Pantheon and marveled at its well preserved architecture.
3.   Trevi Fountain
The next day, we went to the Trevi Fountain…
where we watched many tourists pose for pictures with their coins.
I got inspired to take our photos too.
Our last stop of the day was back to the Spanish steps.
4.   Borghese Museum and Gardens
The Borghese Museum is an art gallery that was founded by Cardinal Scipione Borghese, the nephew of Pope Paul V.  The gallery is filled with artwork from the Renaissance period including Bernini's famous marble sculptures.
Daraius and I reserved tickets 2 days in advance to go to the Borghese Museum (Galleria Borghese).  The museum allows only 360 people to enter every 2 hours and you have to leave the museum once the 2 hours is up.  This means that there are less crowds, but don't count on being able to walk-up and buy a ticket at the counter!
Tickets are 16 euro or ~$22.  Daraius had more fun in the vast gardens outside the museum, but I loved visiting the museum!
When we went to the museum, they were all booked up for the next few days.  But we had bought tickets in advance.  You cannot buy tickets at the museum, but have to reserve in advance.
The museum itself was smaller than I expected.   All of the paintings and sculptures are very good though.  I especially liked two Bernini sculptures, Pluto and Proserpina and Daphne and Apollo.  There was also a small gallery of more paintings upstairs, but I preferred the statues.  I suggest getting an audio guide because nothing is marked.
You can't take pictures in the gallery and you cannot bring in any type of bag.  The guards even fussed about my purse.  However, you can leave bags for free in the basement.
5.   Villa Borghese Gardens
Daraius walked through the museum quickly and then went to the gardens outside.
So I met Daraius in the Villa Borghese gardens afterwards and we rented bikes.
We decided to try out a two person electric powered rickshaw, but neither of us liked it after test driving it.  It was too large to go into some of the smaller dirt paths.
We returned the four wheeler for regular bikes instead.  Bikes cost 4 euros or ~$6 per hour, or ~10 euros or ~$14 for the entire day.
On our bike ride, we discovered many parts of the large park.
The park is very big with lots to explore!
There are mini museums, as well as ponds, a kidsarea, and even an outdoor theater.  There were old monuments to explore…
including an antique grandfather clock.
Daraius and I stopped by a pond that rented boats.
We enjoyed watching the kids feed the ducks and teenage boys rowing their dates around.
Next, we found a kids park with a carousel.
There were also stalls with kids' toys and go-carts.  Go-carts were very popular among the teen boys.  We saw at least 3 to 4 different small groups driving them.
After the kids park, we discovered a beautiful lookout.
We could see a plaza and the rest of the city.
It was very beautiful and we'd love to go back at night!
There are also lots of snack and food stalls, but you can find free water almost everywhere throughout the park in the many fountains.
Bottom Line
We found many fun and inexpensive activities in Rome!
Climbing to the top of the St. Peter's Basilica dome seemed like it would be a lot of work, but it was actually a fun and unique experience.  The view when you get to the top makes it all worth it too!
If you go to the Borghese Museum, make sure you book your ticket in advance because it sells out quickly.
Daraius loved people watching and walking around the city.  My favorite part was getting Daraius to dance with me in the streets of Rome!
Editorial Note: We're the Million Mile Secrets team. And we're proud of our content, opinions and analysis, and of our reader's comments. These haven't been reviewed, approved or endorsed by any of the airlines, hotels, or credit card issuers which we often write about. And that's just how we like it! :)