Mother-In-Law's First Trip to India: Shopping in Bombay
Signing up for credit cards through partner links earns us a commission. Terms apply to the offers listed on this page. Here's our full Advertising Policy.
Don't forget to follow me on Facebook or Twitter!
Emily: 
The next day, I woke up and found that 3 of our missing bags at arrived!  None of our bags had arrived when we landed, so I was looking forward to them arriving.
We then went for lunch and shopping afterwards.  Daraius went for a shave and a head massage and left us girls to do what we do best. 😉  First we went to Asiatic, a department store across from Churchgate railway station for a hair dryer, hair brush, and some other items.
Trip Report Index
My mom and Judi loved browsing through the different sections in the store.
My mom found a beautiful necklace set and my Aunt Judi got a little purse for her granddaughter.
I spent time at the "new arrivals" section!
I'm always amazed at the different types of Indian jewelery!
We also browsed the clothes section upstairs.
The prices at Asiatic are "fixed prices" so you can't bargain, but they are reasonable.  My mom picked out a couple of tunics, and I got a Salwar Kameez.
Another day we went to the Raymond store to get new shirts tailored for Daraius.
In India, you can get clothes made for your exact size very cheap.  Daraius likes Raymonds because he can get high-quality, tailored, button down shirts for only $30 each.  It was fun picking out the fabric. There were hundreds of colors and prints from which to choose.
After that, we went to Colaba Causeway, which is a main shopping street and touristy part of town.  You can get anything from sarees to compasses, to wooden elephants, leather purses, and Indian sandals.
The prices can be good too, as long as you bargain aggressively.  We were quoted 1,200 ($22) rupees for a shawl but eventually paid 400 rupees ($7).  The shopkeepers can also be somewhat aggressive, compared to American standards. For example, they will put their goods in front of you and sometimes walk along side you imploring you to buy them!
They are good salespersons and eagerly unwrap items and make you feel and smell them to get you to buy them!
It can be sensory overload if you're not used to it like my mother!
One man selling drums whacked on his drums next to us, perhaps with the hope that if we heard the sound often enough, we would want to buy his drums.  The best thing to do to these somewhat aggressive shopkeepers is to say "Nahi, nahi" or "nahi mangta" which means "no, no" and "no, I don't want it".
My aunt Judi got two shawls for 800 rupees ($15), and a sandstone coaster set and a wooden elephant for 350 rupees ($7).
My mom got a few leather wallets and looked at some tunics for 1,500 rupees ($28) but did not buy them.
After lunch, we went to Abdul Rehman Street which is the wholesale market in Bombay.  It is in a crowded street just across from the more popular Crawford Market.  The stores often have much cheaper prices, but many do not accept credit cards or will charge a slightly higher price for using a credit card.
The prices are very cheap but the market is busy & crowded.  But I loved the color and sounds!  It is an authentic Indian experience that is not frequented by many tourists.
Luckily, Daraius knew where he was going and we weaved in and out of the streets and lanes to visit the shops.  However, even if we didn't know where to go, it would be okay because everything is generally in the same area.
We saw vendors that sold jewelry, handbags, clothing, fabric, and lots more.  We walked through Mangaldas market, the cloth wholesale market, and saw lots of colorful fabric.
I could have spend hours admiring the pretty fabric, but Daraius was with us!
Soon we made it to my favorite gift bag shop and next door was a shop selling purses.
We bought the purses for $2 which cost $30 on Colaba Causeway, the more touristy shopping area!  I got lots of gift bags at the stationary store.
Each street had lots of tiny shops in them.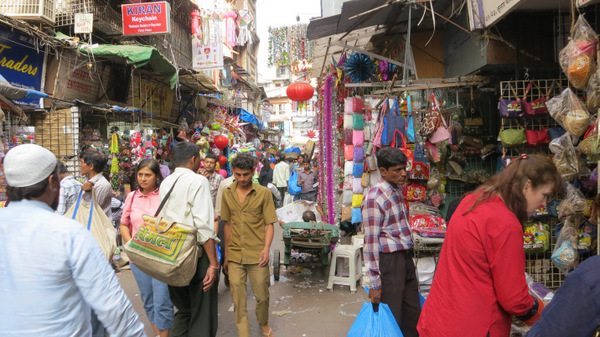 Abdul Rehman Street is a wholesale market, which means you are supposed to buy in bulk.  In my experience, some places will sell ~5 of one item.  The prices are so cheap that you actually save money by possibly buying more than you need (compared to buying fewer at the regular retail price).
Just a few streets away was Zaveri bazaar which is the jewelery market.
There's even a mosque in the middle of the market!
Afterwards, we went to Crawford market (the fruit market), which is across the street to get some dried fruits.
There were vendors selling druit fruits and nuts…
…as well as fruit stalls.
On the way out we bumped into a Million Mile Secrets reader, which was an unexpected suprise!
Next stop was at Fab India...
…and
Westside.
 Westside has Indian and "Western" clothes, and is like a JCPenny department store.  The clothes are hung up, rather than folded.  FabIndia's clothes are mostly folded and simpler. We both preferred shopping at Westside!
My aunt Judi got an Indian outfit at Westside—a kurta top and leggings. It looked very pretty on her!
Daraius:
  One of my favorite things to do in India is to go for a shave and head massage!
Air Cool is a barber's shop
just to the side of the
Churchgate Railway Station.
  The barbers in white coats sit outside waiting for you.
You sit in a line of chairs facing a mirror.
And tell the barber that you'd like a shave, massage, haircut, etc.  Soon you're lathered up…
and shaved while the barber (like those everywhere) tells you the solution to the failing cricket team and political woes of the day!
A shave & head massage at Air Cool (a more expensive salon) cost ~80 rupees  ($1.50) each!
Editorial Note: We're the Million Mile Secrets team. And we're proud of our content, opinions and analysis, and of our reader's comments. These haven't been reviewed, approved or endorsed by any of the airlines, hotels, or credit card issuers which we often write about. And that's just how we like it! :)