"I am constantly amazed at the ridiculous ways we can earn miles…"
Signing up for credit cards through partner links earns us a commission. Terms apply to the offers listed on this page. Here's our full Advertising Policy.
Welcome to the next interview in our interview series where renowned mile and point gurus share their insights on having Big Travel with Small Money!
Miles & Points Interview: New Girl in the Air
Becky Pokora writes New Girl in the Air and shows you how to collect miles and points without doing "crazy" things like lugging around tonnes of coins to deposit in banks or spending weekends away from your family mileage running.  I love her philosophy of realizing that Miles & Points can save you money, but can't be used all the time, so I was glad to chat with her.
How and when did you start collecting miles and points?
Believe it or not, I started collecting points on my very first independently-booked trip.  I had grown up seeing my mom collecting points for all of our travels, so it seemed like the thing to do when I was ready to travel on my own.  Back in September 2004, my boyfriend and I went on a weekend getaway to Philadelphia, and earned a few Amtrak and Priority Club points along the way.
At the time, Amtrak offered a minimum amount of earned Guest Reward points for every trip regardless of price or distance, so it didn't take long for me to convert a few 20-minute train rides into a business-class seat to Boston.  Not much later, I started redeeming my Priority Club points for free hotel stays.  I was hooked!  Today, I've expanded to collect miles and points through methods my mother never knew about and I'm still traveling with that very same boyfriend (now husband) – often for free because of the miles and points we collect.
Why did you start New Girl in the Air?  What's special about it?
I've been reading blogs for about nine months now, and I never set out to start my own.  However, learning my way around the miles world, I realized that a lot of the strategies outlined just weren't relevant to me.  New Girl in the Air is meant to be from the perspective that anyone can do this, even if you're "softcore" like me!
If you don't have the assets to back banking accounts that earn miles each month and you don't have the time to deposit coins at the bank everyday, you can still earn miles and points to help take the sting out of traveling costs.
I'm not willing to rearrange my life because I'm interested in a free vacation, but even by sticking to the relatively simple promotions, bonuses, and special offers we can speed up miles and points earning for the real possibility of free or highly discounted travel.  I want to make sure that the readers out there looking at a more modest goal aren't discouraged and still work toward achieving their free trip!
Maybe some will work their way up to multiple trips, or nicer resorts or cushier airplane seats, but in the meantime, even baby steps can get you closer to seeing the world.  Free travel is out there for the taking, if you just know how to play the game.
What's the one single thing people can do to get more miles?
Stay current with program information and promotions!  There is so much information readily available – and so many great tools and resources when it comes time for tracking and spending – that a little effort to stay informed can be the difference between one free flight and two.  For example, just signing up for a few American Airlines emails earned me 3,000 miles – probably about $60 in value for a five-second registration.
Taking advantage of opportunities like that one can really help pave the way toward a free flight at minimal effort (and at no cost to you), but that implies being aware of the promotions in the first place.  Even when promotions aren't around, making informed decisions helps speed up your earnings potential as well.
For example, if I had known at the time that I could credit my Hyatt stay as airline miles rather than Hyatt points, I'd be a little closer to a free flight right now instead of having orphaned Hyatt points which I'll probably never be able to redeem.  From a strictly numbers standpoint, I wouldn't have earned more miles, but I'd have earned more usable miles – and that makes all the difference.  Being aware of the "ins and outs" of your preferred programs means you'll be wiser at how you earn miles, and of course, how you choose to redeem them.  It's cliché, but knowledge is power.
What's your most memorable travel experience?
I feel pretty fortunate to consider this a tough question!  I'm lucky to have traveled to a lot of wonderful places with some of my favorite people, and have many wonderful memories from my travels.
While on a US Airways flight from Buffalo on the way to my honeymoon, the pilot announced we'd be making a short detour over Niagara Falls before continuing on our way.  I think everyone here will agree that Niagara Falls is one of the natural wonders of the world, but as a (former) local, I'll admit it is a sight that had become fairly ordinary in my life.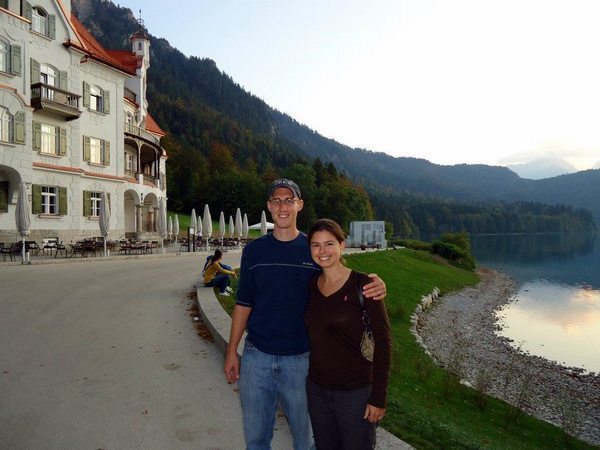 I've been to the Falls more times than I can count, and participated in just about every related attraction or tour…but I had never seen it from the air.  Even better, this wasn't just a flyover on our route, but the pilot actually circled for a few minutes as a true form of flightseeing.
To this day, I have no idea how he got permission to do that, but I'm glad he did!  It was really eye-opening to see something that was so normal to me from the perspective of how wondrous it really is.   It was such an incredible five minutes, to see the Falls from an entirely different angle both figuratively and literally, and something I'll never forget.
What do your family and friends think of your miles & points hobby?
When it comes to miles and points, I think they actually like it because it benefits them.  For example, my mom and my sister both just earned 50,000 Club Carlson points from the Radisson promotion, which they are planning on using for 5 free nights EACH at Country Inn & Suites properties.  My husband and I went to Oktoberfest this fall – his dream! – because we were able to use Priority Club points for a hotel in Munich rather than paying 300 euro per night for a basic room.
I won't lie, however, and say no one ever gets annoyed.  My obsession lies more on the end of planning trips than collecting miles, so usually their impatience is when I say things like I'm planning a trip to Kamchatka and then start sharing "did you know?s…".  Usually they just nod and smile because they're too sweet to tell me to be quiet!
Is there any tool or trick which you've found especially useful in this hobby?
Flexibility is key.  Unfortunately, award flights are capacity controlled, so you might not find the perfect flight on the first try when you're ready to redeem.  That's the bad news.  The good news is that there are a dozen different ways to work around this.
Perhaps you book much further in advance than you normally would, fly on a different day of the week than you prefer, connect in your second-favorite hub, choose a different airline, spend more miles because "saver" space isn't available, fly business class for one leg instead of first class because it's only a 2-class aircraft, or pick an entirely different destination.  It's a trade-off, and chances are you're going to have to give a little in order to get that redemption.
Yeah, it sucks a little, but…you just got a flight for free!  You get to see the world!  You don't have to go to work!  You get to brag to your family that you sat in the front of the plane!  In the long run, that one bit of flexibility to fly out of Newark instead of JFK may be the difference between flying for free and not flying at all.  Sounds like an awfully worthwhile trade-off to me.
What was the least expected way you've earned miles or points?
A few months ago, we had a bunch of family and friends visiting while in town for a NASCAR race, and we paid for everyone's cover charge at a piano bar that participates in the Rewards Network dining program.  Simply by asking, we were able to pay this with our credit card, and we ended up earning hundreds of miles from the cover charge alone!
I am constantly amazed at the ridiculous ways we can earn miles, and am thrilled when I find absurd promotions, like buying a cell phone accessory and an iTunes download for 5,000 miles or answering a single trivia question as part of the US Airways Grand Slam and using it as a way to reach a 3,000 mile threshold.
What do you now know about collecting miles and points which you wish you knew when you started out?
Earning and redeeming miles is like heading through a maze.  You might be slowed down by different obstacles along the way (credit score not high enough for the Chase Sapphire Preferred?) and at times you might even hit a dead-end (no availability on that reward flight?).
Luckily, there are enough resources out there to make this maze manageable.  The fine print on airline websites is like being given a map, and blog posts are like a birds-eye view with the route visible from the air.  Throw in the knowledge base from Flyertalk or MilePoint, and it's like you're going through the maze with a guide who knows the way.  It might seem complicated at first, but eventually you'll feel comfortable enough to start navigating your way through.  Don't give up before you get started.
What would your readers be surprised to know about you?
Even though I enjoy collecting miles and points, and especially enjoy redeeming them, my two biggest travel goals don't really rely on miles and points.
One of them is to backpack through South America…so I guess miles could fly me to my starting and ending point, but once I'm there, I want to rely on public transportation and local guesthouses in order to really immerse myself in the culture.  I would love to stop at a million destinations along the way instead of flying from one city to the next.
I know it's the long way, and potentially difficult and uncomfortable, but I think the big picture would more than make up for that.  I've always wanted to improve my Spanish, and I figure throwing myself into the language for a few months ought to do the trick!
My other dream journey is a stereotypical American road-trip, leaving from home in my car and hoping it holds up as I drive cross-country.  I'd spend my days exploring the greatest parts of our country and its natural wonders, and I'd spend my nights in campgrounds.  I need neither flights nor hotels for this, so it seems as if I better start saving up for fuel costs and an air mattress instead 😉
Overall, I think there's a time and a place for miles and points and they simply don't fit into these particular dreams.  For me, the experience I'm looking for always trumps points – with free being the icing on the cake when it happens to work out.
Any parting words?
When it comes to miles and points, the best redemption value is the one that maximizes your happiness.  Looking at cents per mile is a tool, not the final judgment.
The best part about miles and points is there are so many ways to redeem them and luckily, you can pick the option that brings you the greatest joy, whether that's living it up in hotel rooms that normally cost $800 or flying for 15 hours in economy class because it means you can take your family with you.
Take a step back to evaluate what you want and then go about achieving it.  In other words, make your miles and points work for you.
Or like me on Facebook or follow me on Twitter.
Related Posts:
Editorial Note: We're the Million Mile Secrets team. And we're proud of our content, opinions and analysis, and of our reader's comments. These haven't been reviewed, approved or endorsed by any of the airlines, hotels, or credit card issuers which we often write about. And that's just how we like it! :)