Signing up for credit cards through partner links earns us a commission. Terms apply to the offers listed on this page. Here's our full Advertising Policy.
Don't forget to follow me on  Facebook or Twitter!
Welcome to the next interview in our interview series where travel bloggers share their insights on having Big Travel with Small Money!
Miles & Points Interview: Miles for Family

Leana is a stay at home mom who runs The Miles for Family and prefers getting the most value from her travels rather than fancy traveling.
How and when did you start collecting miles and points?
Being originally from Europe, I had no clue about miles and points.  It was in 2001, while booking tickets to see my family, that an agent suggested signing-up for a frequent flyer account.
I said sure, why not, and forgot all about it.  But few years later – and another trip to Europe on the same airline plus a credit card sign-up – and we were on our way to Maui on award tickets.  And just like that, I was hooked.
We never made a lot of money, in fact we just recently qualified to be called "middle class."  But staying out of debt (crucial) and driving beater cars, we were able to afford amazing vacations with the help of miles and points.
Why did you start your blog?  What's special about it?
I mostly started to explain to my family about this crazy hobby and hopefully help them along the way.  Also, I am a stay-at-home mom and this is one of the ways I keep my mind sharp because I get bored easily.  It's quite surreal, I dream of Tahiti while changing diapers!
As far as what's special about it?  I'll be honest, most likely, I am late to the party.  There are so many incredible blogs, some about family travel.  The obvious one: Mommy Points, where she does an amazing job, breaking down deals for the family.
But perhaps, I could break it down further to apply to an average family with limited potential for points earning.  That's the motto of the blog: Miles and Points for an average family.
I guess if "Mommy points" and "New girl in the air" had a plain looking child, I would like to think it would look like my blog somewhat.  I invite comments and suggestions on the direction I should take.  I especially would like to hear from my target audience: a middle class family, who mostly travels with their kids, who prefer "value" to "fancy" and who are not bored by crunching numbers.
What's the one single thing people can do to get more miles?
For my situation, sign-up bonuses all the way.  It is impossible to provide travel for 4 people and fly my parents over from Europe regularly while putting 23,000 dollars on credit cards per year.  We were able to get around 800,000 miles and points in the last 12 months by being strategic.
And before the interrogation begins, no, I will not provide proof.  You will just have to take my word for it.  I also buy points sometimes, like the Choice package from Daily Getaways because it made sense for my needs.
What's your most memorable travel experience?
That's tough, but I would have to say stunning Santorini.  Not much else to say.  I would love to go back, if for no other reason but to visit the ancient site of Akrotiri which sadly was closed when we were there.
What do your family and friends think of your miles & points hobby?
My in-laws tolerate it and even sometimes sign-up for cards just to get rid of me.  My husband, though hates it with the passion, he loves to travel but is not interested in the "anatomy of the reward".  But in a way, that's OK.
When I read about couples hunting together for vanilla reloads on their date night, I get concerned.  I try to give my points freely to family and help out whenever possible.  The dark side of this otherwise amazing hobby is greed and hoarding.
Coming from a poor family, I also try to be grateful and not take anything for granted.  While I love miles and points, they don't define who I am as a person.
Is there any tool or trick which you've found especially useful in this hobby?
Not so much a tool but its very important to calculate opportunity cost.  Even more so for a family on a budget.  Take the Park Hyatt in Paris, for some, the ultimate hotel redemption.
While I would consider transferring Ultimate Rewards points to Hyatt points to get a 1 night stay for just me and my husband, I would never do so with my kids because we would need 2 rooms.  I would have to forgo 44,000 Southwest points (because you can transfer Ultimate Rewards points to Southwest as well) because of this decision.  Those points could be used to pay for 4 round-trip tickets from Florida to Niagara falls on certain dates.
I am sure the Park Hyatt in Paris is nice but it is not worth it to me.  I don't buy into the hype.  There is nothing wrong with splurging but be aware of what you are giving up.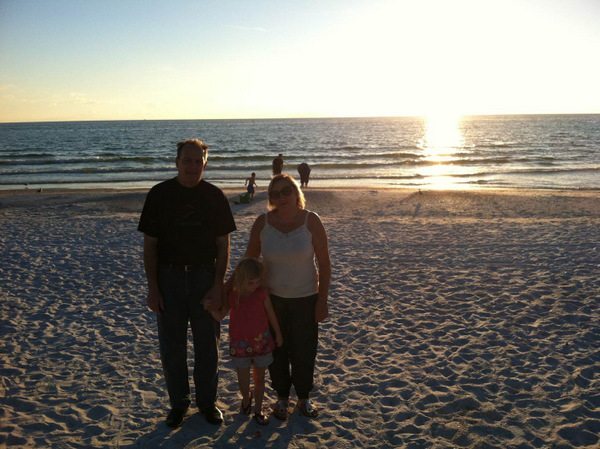 What was the least expected way you've earned miles or points?
This was sort of an arbitrage opportunity.  Some old timers may remember, when Continental miles transferred to Amtrak 1:1 and Amtrak to Choice points 1:5.  We just had earned 10,000 miles from a 500 dollar ticket each.
I laundered them into Choice program getting 100,000 points along the way.  Than we redeemed them at decent Choice hotels getting 1,000 dollars in value, effectively making up for the cost of original flight tickets.  It still brings smile to my face.  Is that sad?
What do you now know about collecting miles and points which you wish you knew when you started out?
Reconsideration line.  I admit I have avoided blogs till recently because I like to do my own analysis.  But I came across your blog giving points on reversing credit card denial.  I was shut out from credit card applications because of the new law.
Since its crucial for me to be honest in this hobby, I applied using just my little interest from CD's.  I was denied of course, but got approved in the end.  I did it 4 more times, getting approved each time through combination of credit line exchange and plain begging.
What would your readers be surprised to know about you?
At 17, I was an exchange student from a former Soviet republic.  That's how I met my now husband.
Any parting words?
I might be the first stay-at-home mom offering an award booking service.
Leana – Thanks for sharing your thoughts on having Big Travel with Small Money!