"You might just get a Budweiser tall boy, carton of milk, bloody eels and more to the horror of the restaurant staff."
Signing up for credit cards through partner links earns us a commission. Terms apply to the offers listed on this page. Here's our full Advertising Policy.
Don't forget to follow me on  Facebook or Twitter!
Welcome to the next interview in our 
interview series
 where renowned mile and point gurus share their insights on having 
Big Travel with Small Money!
Miles & Points Interview:  La Jolla Mom
Katie is a stay-at-home mom who believes that traveling is the best education for her 5 year old daughter, so I was looking forward to our Friday chat!
How and when did you start collecting miles and points?
I signed up for American AAdvantage prior to my first ever business trip in 1997.  My husband took a job with a London law firm in 2000 so we moved over there for two years and then Hong Kong for almost six years.
We were constantly flying back and forth to the U.S. and had a pretty awesome travel allowance so I never actually worried about miles or points until we moved back to the U.S., where perks like that don't really exist.
The one thing we have always done is fly almost exclusively within the oneworld Alliance.
Why did you start your blog?  What's special about it?
My daughter was born in Hong Kong so I maintained a private family blog to keep family and friends back home in the loop.  Since I knew the drill, I started La Jolla Mom in 2009 right after we moved back to La Jolla (La Jolla is a seaside community in San Diego, CA–not everyone knows that), having heard about this "mom blog" thing.  (For the record, I am not a fan of that term.)
I expected it to be a hobby and had no idea it would turn into a legit business.  First, the site was more parenting-oriented.  Because we had traveled all over the world, I started sharing travel tips like how to fly long haul with babies and toddlers.
The emails came pouring in, so I decided to write a short book about flying with young kids.  I get substantially less email now because people buy the paperback book or eBook.  It's not a literary masterpiece, but there's some good advice in it.  Even though she was a ridiculously fussy baby, I trained my daughter to be a good flyer.  It involved strategic planning on my part from booking specific flight times to proactively managing her jet lag.
We still travel frequently with her in tow and you'd better believe she's never kicked the seat in front of her.
Now, La Jolla Mom focuses on luxury travel and local happenings with other lifestyle topics sprinkled in.  I also lived in the Four Seasons Hotel Hong Kong for almost 4 years and now write for the Four Seasons Hotels and Resorts family blog, Have Family Will Travel and their new food blog, Taste.
I also am a contributing editor for a review-based family travel site called Trekaroo and the San Diego local expert for 10Best/ Travel Media Group at USA TODAY.  It took a few years to figure it out, but freelance travel writing is where I'm the happiest and I'm proud to be a part of these sites.
The problem is that travel writing just makes me want to travel more.  And, I made a huge error that consistently throws an emotional wrench into my travel plans. I got a dog. *Gasp*
Thankfully, there's an awesome pet resort nearby.  But, since I rescued him and spoil him rotten, I often remind myself that he pretty much hit the lottery.
What's the one single thing people can do to get more miles?
Put every single purchase possible on a credit card, provided that you can pay it off.  I would even put my mortgage on one, if I could. (Yes, I've looked into it.)
What's your most memorable travel experience?
I begged my husband to take me to Wolong, a panda reserve that was a freaky 3-hour ride from Chengdu, China.  I expected to, perhaps, get close to a panda but for a small fee I was suited up and allowed to hug, hold and play with about 16 baby pandas in that same enclosure that you see in a lot of panda documentaries.
Now, I don't feel so great about it because that sort of human exposure isn't good for them.  But, at the time, I jumped on the opportunity and it was awesome.  Wolong was destroyed in the Chengdu earthquake.
On that same trip, we visited an Animals Asia bear rescue where bears once used for harvesting bile are rehabilitated.  I'll stop there because it's gruesome stuff, but it was quite an eye-opener.  Chengdu is one of my favorite cities in China.
Hot tip:  Don't use my husband's strategy of ordering the most expensive item on a check-the-box-here hot pot menu if you can't read Chinese.  You might just get a Budweiser tall boy, carton of milk, bloody eels and more to the horror of the restaurant staff.
What do your family and friends think of your miles & points hobby?
I think they get it.  I'm a travel writer and an ex-expat who gets fidgety without a hotel or flight reservation on the books.  I don't have to work, but I do it to travel without my husband complaining about cost or heading to places he doesn't want to go.  Though he does benefit from it, too.
I recently took him to Mexico City to climb the Teotihuacan pyramids (highly recommend).  He traveled so much for work that he's temporarily (hopefully) "burned-out" on airports and because he's 6'6″ tall, he won't fly economy class.  When you combine that with also needing to fly yourself and a kid, its LOT of miles or cash needed to go almost anywhere.
Plus, the truth is that I enjoy what I do and a lot of the hotels we stay at don't have mileage programs, making airline miles even more important.
Is there any tool or trick which you've found especially useful in this hobby?
Not to be funny, but subscribe to points-driven sites like Million Mile Secrets.  It's here that I learned about Vanilla Reloads and other tricks. Enough said.
I also think that you have to be prepared to spend some cash on occasion.  There are times when fares are so low, that it just doesn't make sense to use miles.
If you can achieve lifetime status on an airline, like American Airlines, it takes huge pressure off how you book trips. Is there a flight cheaper elsewhere?  Do you want to start racking up Delta Miles?  Go for it, American Airlines status will always be there for you.
I also think that lounges are amazing for parents traveling with young kids.  The bathrooms are clean, it's less hectic and sometimes there are even kids toys or play areas inside.  Get a credit card with lounge access or pay for it.  I find that my husband and I get our money's worth via the complimentary cocktails alone.
What was the least expected way you've earned miles or points?
By shopping.  It's a bit harder than it used to be but I run all eligible online purchases through American Airlines shopping mall and keep an eye out for bonus deals on that site or via my Citi American Airlines cards.  When I renovated my house, I bought appliances and materials based on both cost and miles earned.
What do you now know about collecting miles and points which you wish you knew when you started out?
I feel like there are hundreds of thousands of miles (millions?) that I left on the table by not being a bit more proactive.  I've had the same old Citi American Airlines cards for years, but am re-evaluating whether or not to hang on to them.
What would your readers be surprised to know about you?
I used to be terrified of flying.  I was a shaky wreck, despite having a cocktail or three prior.  Sometimes, turbulence STILL freaks me out.  I also get to airports way earlier than necessary to sit in a lounge.  Big or small, fancy or not–I love them.
Any parting words?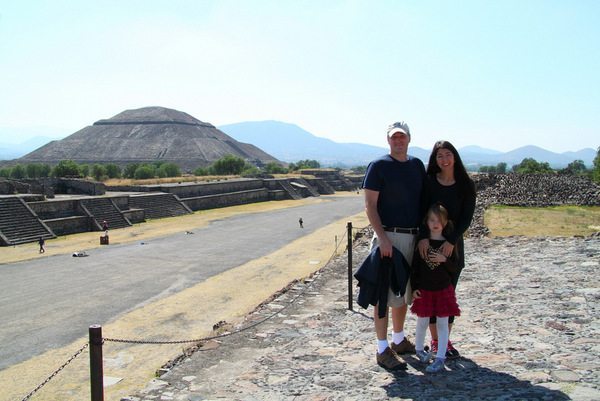 Even if you have no imminent family travel plans, I'd start piling up miles anyway.  You just might be surprised by how quickly a family can jet off to a tropical destination paid with miles.
Plus, I believe that hotels and resorts at all price levels are catering more and more to traveling families by including special perks, kids amenities and more, making life a lot easier after a long haul flight or even a multi-hour road trip.
Travel is one of the best educations that you can give a child, in my opinion, though it's tough to sell that theory to a public school district.  I know.
Katie 
– Thanks for sharing your thoughts on having 
Big Travel with Small Money!
Editorial Note: We're the Million Mile Secrets team. And we're proud of our content, opinions and analysis, and of our reader's comments. These haven't been reviewed, approved or endorsed by any of the airlines, hotels, or credit card issuers which we often write about. And that's just how we like it! :)