"And what's more fun than earning awards?"
Signing up for credit cards through partner links earns us a commission. Terms apply to the offers listed on this page. Here's our full Advertising Policy.
Don't forget to follow me on  Facebook or Twitter!
Welcome to the next interview in our interview series where renowned mile and point gurus share their insights on having Big Travel with Small Money!
Miles & Points Interview:  Have Points Will Travel
Jason writes Have Points Will Travel and is an avid traveler and points hoarder.  Jason started blogging to share his travel experiences and points collecting strategies with the world, so I was looking forward to our chat on Friday!
How and when did you start collecting miles and points?
I started collecting points somewhere around the time I took my first "grand adventure" trip.  I moved to Berlin, Germany, in 2009 for 7 months after I turned my Web Marketing business into a 100% virtual operation.  That's when travel became an integral part of my life, and it's also when I realized points and miles would be very useful.
But I didn't really start aggressively collecting points until around the time I created my very own personal productivity system, "Productive Points."  Just like being rewarded for taking flights or staying at hotels, I use "Productive Points" to reward myself for getting things done in my personal and business life.  Then, when I earn a set amount of points, I give myself an award.
That system still works for me today, and I think it's why I'm so in love with the whole idea of "earning points" for travel too.  Life should be fun.
And what's more fun than earning awards?
Why did you start your blog? What's special about it?
I started Have Points Will Travel because I love travel, I love points, and I love writing.  I have a strong passion for travel and have always wanted to run a travel blog.  I attempted a few other travel blog projects but couldn't find the right angle.
Then, I stumbled upon this idea and just jumped on it.  It's still in the early phases but I'm working to make it a more regular part of my business.  I also have another travel blog about my favorite place in the world — Santorini Island in Greece.
What's the one single thing people can do to get more miles?
Change your limiting beliefs.
I talk to so many people about what I do (taking multiple stop flights, applying for lots of travel cards, etc) and almost always hear excuses and self-doubt.  Just like starting your own business or setting out on an around-the-world adventure, limiting beliefs can really hold you back.
The absolute worst limiting belief I hear more than anything else is, "My credit score will go down if I apply for so many credit cards."  But when you really talk to people about that topic for long enough, you soon realize they don't actually know very much about how credit scores work in the first place.
Limiting beliefs are usually ideas we have just because we don't really understand something.  They're always worth challenging.
What's your most memorable travel experience?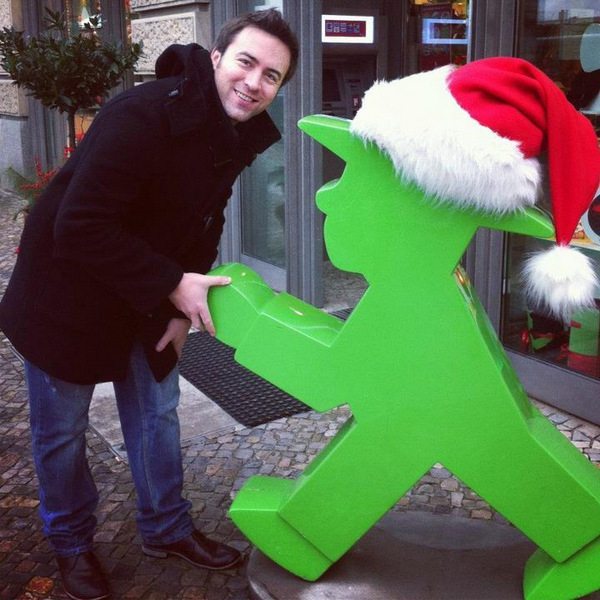 When I took that fateful 6-month trip to Berlin, Germany, in 2009 I met some fantastic people and had some unforgettable experiences.  One girl in particular I'm now very happily engaged to.  We're getting married May 2013.
I'd say that trip tops them all.  🙂
What do your family and friends think of your miles & points hobby?
Most people really love it when I share my tips and ideas.  I've helped a few friends and family members score some great credit cards and book $5.00 business class award flights.  So most of my closest friends and family members really love it.  They often just wish I didn't travel so much.  What can I say?  I'm hooked!
Is there any tool or trick which you've found especially useful in this hobby?
Online shopping is my best friend for racking up massive amounts of points.
I use EvReward to double-check for the best points deals on online purchases every time I shop online.
What was the least expected way you've earned miles or points?
It's probably the little bonuses I stumble upon here and there.  Signing up for dining programs, opting-in for text message marketing — you name it.
If something will bring in an extra 500 or 1,000 points for not much work, I'll almost always go for it.
What do you now know about collecting miles and points which you wish you knew when you started out?
I regret not doing a better job of consolidating my points and miles into a handful of key programs.  For example, I've done a lot of traveling around Europe, and I've often made the mistake of signing up for a random airline's miles program instead of leveraging just one alliance program.
I have 8,500 miles in the Lufthansa Miles & More program that I could have had put into my United account.
Plus, I also wish I'd spent more time learning about which programs had the best/easiest redemptions.  But I think that's the nature of points & miles collecting.  You've got to just jump in and learn by doing.  You won't know which programs work for YOU unless you get real experience collecting points, booking awards, and then learning as you go.  And since everyone's travel style is different, what works for you might not work for me and vice versa.
What would your readers be surprised to know about you?
In the past year alone, I've traveled 116,405 miles to 29 locations.  Thank you TripIt for tracking that for me.  🙂
Any parting words?
I'll borrow my parting words from the great Mark Twain…  "Twenty years from now you will be more disappointed by the things you didn't do than by the ones you did do.  So throw off the bowlines, sail away from the safe harbor. Catch the trade winds in your sails. Explore. Dream. Discover."
Jason
– Thanks for sharing your thoughts on having 
Big Travel with Small Money!
Editorial Note: We're the Million Mile Secrets team. And we're proud of our content, opinions and analysis, and of our reader's comments. These haven't been reviewed, approved or endorsed by any of the airlines, hotels, or credit card issuers which we often write about. And that's just how we like it! :)