"Own the exact right credit cards for you."
Signing up for credit cards through partner links earns us a commission. Terms apply to the offers listed on this page. Here's our full Advertising Policy.
Don't forget to follow me on  Facebook or Twitter!
Welcome to the next interview in our 
interview series
 where renowned mile and point gurus share their insights on having 
Big Travel with Small Money!
Miles & Points Interview:  Glyph
Mike left his consulting job to develop an easy way to determine which credit card to use while shopping, so I was looking forward to our Friday chat!
How and when did you start collecting miles and points? 
Prior to Glyph, I worked at Accenture.  After five years of heavy travel, you can bet points became near and dear to my heart.  Over time, my friends and I developed excel files that tracked the best cards, where to use them, and how much money each reward point was worth.
Why did you start Glyph?  What's special about it?
Well, my co-founder, Tyler Felous, and I recognized there was an obvious problem.  Rewards programs offered great rewards, but it was difficult to know A) which cards were best for you, based on your own individual spending patterns, and B) which card would give you the best deal when you're out away from your computer.  With Glyph, we're giving people the confidence that their financial interests are looked after on every purchase – we call that "Peace of Wallet".
It's special for two main reasons: 1) we are able to quantify down to the dollars and cents which card portfolio is best for our individual users – we are the only company that does this – and 2) we provide accurate, real-time, location-based recommendations.
I've been testing Glyph and I don't understand how you assign values to each point currency.  I also don't agree with all the valuations so is Glyph still useful to me?
The short answer is yes.  A few reasons on why that is:
– The currency values we show are those generally available to the public at normal redemption levels.  Having said that, it's possible for points redemption experts to achieve a better rate than the one we've shown.  However, our results will usually be directionally accurate.  Obviously, we don't deal with these issues for cashback cards, since a dollar is a dollar in those situations. – In the next few weeks, we'll be releasing an updated app that allows the Glyph community to comment on specific cards, and let others know their tips and tricks on how to redeem best!  In addition to that, we have many added features, such as up to three card recommendations shown in the Guru recommendation screen, in addition to the ability to link Glyph to their bank accounts so their credit balances and APRs are always up to date, similar to budgeting sites.
What's the one single thing people can do to get more miles?
Ah – glad you asked. My simple answer:  Own the exact right credit cards for you.  The next step is using them at the right place!
But, we also have some secrets to share on that point.  For the first time ever, by using Glyph's new website, you can find the perfect credit card portfolio for you, based on your own spending behavior.
How does it work?  We will allow users to securely link their bank accounts to Glyph – via the same process as other personal finance websites.  Then, based on our analysis of your spend patterns, we report your ideal credit card portfolio, including exactly how much money you've left on the table by having the wrong cards.
From there, you can further personalize your selection by selecting from a list of available features, such as no foreign transaction fees, for example.  We think it's the best credit card tool that's been created yet, because it's focused 100% on helping each individual user.  That's Peace of Wallet, baby!
But … we haven't launched quite yet.  If you like us on facebook (facebook.com/paywithglyph) or follow on twitter (@PayWithGlyph), you'll be the first to know when we launch!
What's your most memorable travel experience?
There are many, but the most memorable travel experience has to be South Africa.  My wife, Jennifer, and I traveled there in May 2012.  We spent four nights on the Simbavati game reserve, near Kruger National Park, and then 5 nights in Cape Town.
One the first night of our safari, we were sleeping in a "luxury tent" in the bush.  I woke up at midnight to my wife slapping my face as she heard the sound of lions growling and roaring not too far from our tent.  No fences, just a cloth tent separated us.
After a sleepless night, the guides told us that one lone-lion was impeding on another lion pride, causing a fight.  All that took place less than 100 meters from our tent.  That made cage-diving with Great Whites seem like a piece of cake.
This is my wife, Jennifer, holding a baby lion in South Africa.  We are from Detroit and we love our Lions, even though they can tear your heart out.
What do your family and friends think of your miles & points hobby?
Well, my parents love watching our dog, so in some ways it makes them happy.  They were less happy when we told them about the Lion incident above.
Is there any tool or trick which you've found especially useful in this hobby?
Glyph.  That was easy!
What was the least expected way you've earned miles or points?
It's not earth-shattering, but I found out last year that Starwood hotels will give you points if you host conferences at one of their properties.  Yay Starwood.
What do you now know about collecting miles and points which you wish you knew when you started out?
You should be earning 5% in points on almost every purchase.  It's all about having the right card portfolio, and knowing when to use each card.
What would your readers be surprised to know about you?
Maybe just a word on what building a company in Detroit means to us at Glyph.
Fundamentally, Glyph's brand is about helping consumers improve their financial position.  That's something that many people in Detroit can get behind, and I think the same is true in many parts the country.  Most importantly, every single person on our team is committed to helping improve the city we love.
While Detroit lacks the infrastructure you might find in San Francisco or New York, we have found awesome people wanting to move to Michigan to join the team.  We're excited to take part in the rebirth of a hugely important city in American and world history.  If you want to pitch in or get involved in Detroit more generally, please send me an email, listed below, and we can chat.
Any parting words?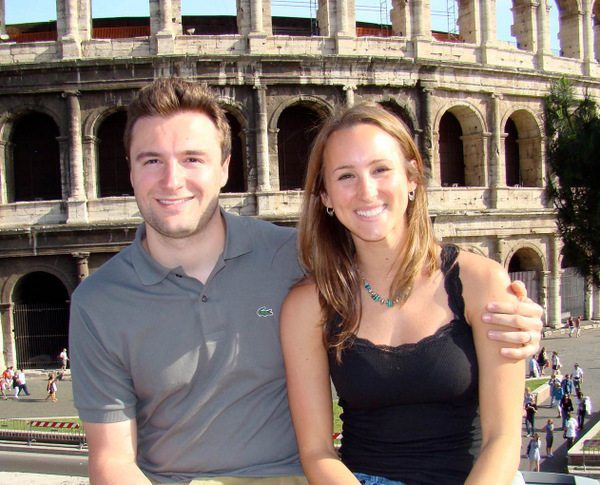 Stay tuned for the upcoming product launch.  If anyone has any questions, feel free to email me at mike@paywithglyph.com or Tyler Felous, my cofounder, at tyler@paywithglyph.com.
Mike 
– Thanks for sharing your thoughts on having 
Big Travel with Small Money!
Or like me on Facebook or follow me on Twitter!
Editorial Note: We're the Million Mile Secrets team. And we're proud of our content, opinions and analysis, and of our reader's comments. These haven't been reviewed, approved or endorsed by any of the airlines, hotels, or credit card issuers which we often write about. And that's just how we like it! :)