Signing up for credit cards through partner links earns us a commission. Terms apply to the offers listed on this page. Here's our full Advertising Policy.
Emily:   I've wanted to go to Croatia for the last several years.  I heard wonderful things about the country and how beautiful (and relatively affordable) it was compared to the rest of Europe.  It's located in Eastern Europe and is just a few hours from Italy.
Last year, my friends and I organized a group trip to visit Rovinj, a small coastal town on the Dalmatian Coast of Croatia.  It's a gorgeous town full of romance.  Everything is stunning there, from the streets to the houses.  The food is also excellent.
We went for a kizomba dance festival.  Later in the trip report series, I will introduce you to kizomba and describe what an incredible dance it is!  The dance festival was amazing and Croatia is definitely a place I want to return and spend more time exploring!  The trip's retail cost was ~$17,000 but I paid ~$900.
Captivating Croatia Trip Report Index:
Part 10 – Activities in Rovinj, Croatia – Day Trip to Plitvice Lakes
A Day Trip to Plitvice National Park
A trip to Croatia must include seeing 1 of the country's most beautiful sites:  Plitvice National Park.  Although it was ~4 hours from Rovinj, it was worth the time to get there.
Plitvice is a valley comprised of 16 terraced lakes with gushing waterfalls and miles of trails.  It's a magical world with of lots of bright bluish green lakes and miles of trees.  A true nature's paradise that wasn't overrun by tourists.
We started by going to the rental car dealer in town (right by the Concettino cafe) and reserving a car a day before our trip.
We piled in the car and started our journey.
We had only had a few hours of sleep since we were up until ~6:00 am dancing the previous night.
The Croatian countryside was beautiful!
I wanted to sleep, but I didn't want to miss out on all of the gorgeous views.
The roads were in very good shape and were well marked.
We stopped once to eat lunch and fill up on gas at a huge roadside rest stop.
There was a large buffet and you could choose from many different foods!
I had a beet salad, goulash with rice, pesto gnocchi, and a chocolate mousse dessert.  Yum!
After another hour or 2 of driving, we had finally arrived!
Immediately after entering the park, we were greeted with amazing views.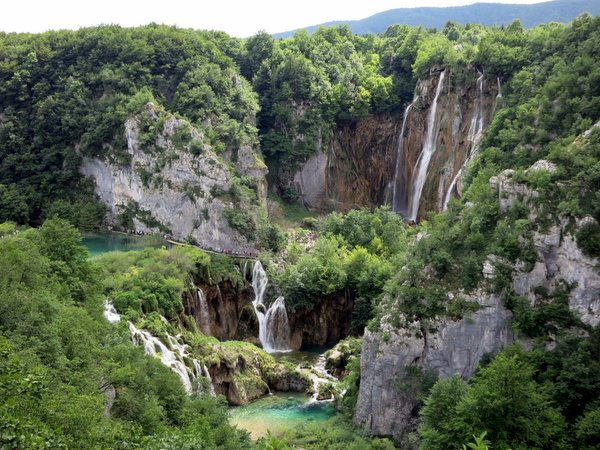 I laughed as my friends took selfies.
It was the perfect getaway after so many nights of dancing.
The trails wound their way around the lakes and waterfalls.
We even saw some local residents!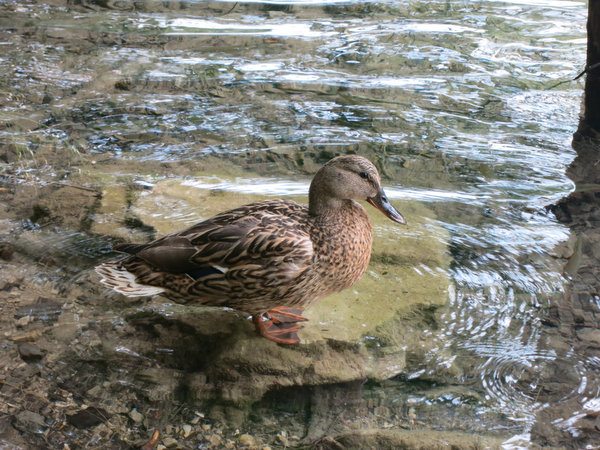 Everyone was having a great time soaking it all in.
There were caves to explore…
…and I loved how you got to experience all aspects of the park.
We even stopped to dance a little kizomba… (more to come on that later in the series!)
…and tried a kizomba caterpillar!
After exploring for a while, we rode the ferry to the other lake.
While on the boat, we had a snack.
The colors of the lakes were beautiful.
We loved our visit to Plitvice!
Soon, it was time to head back.  We didn't want to find lodging in the area, so we headed back to Rovinj at dusk. ~8 hours a day is a lot of driving, but it was well worth it!  And the road trip was super fun!
A couple hours into our trip, we were hungry for dinner, so we stopped at the only place we saw open:  a gas station.
We enjoyed our snacks, but really wanted some real food.  Poor Jeff was exhausted after all of the driving.  I think the gas station employee wanted to come with us on our road trip!
As soon as we got home, we helped each other make 1 of the best meals I've ever had:  roast chicken with carrots and potatoes.
Sharing a meal together at the end of the long day filled me up with not just delicious food, but lots of love, happiness, and good vibes.  I am so thankful to have a great dance family!
Bottom Line
Visiting Plitvice National Park was a great day trip from Rovinj!  It was the perfect complement to our busy days (and nights!) of dancing.
Seeing the beautiful lakes, waterfalls, and forests helped me appreciate the little things in life.  And finishing the day with a homemade meal with my dance family was the perfect ending!