Our Anniversary to Italy: Part 13 – What to do in Varenna, Italy
Signing up for credit cards through partner links earns us a commission. Terms apply to the offers listed on this page. Here's our full Advertising Policy.
Don't forget to follow me on Facebook or Twitter!
Emily Jablon:  
Daraius and I went to Europe in September to celebrate our 2nd anniversary for ~2 weeks.  It was my first time in Italy so I was very excited!  In Italy, we visited Varenna on Lake Como, Milan, Venice, and Rome.
Since we were in Europe, we visited a friend in Strasbourg, France and also spent a night in Zurich.  We started our trip with a one day layover in Chicago to see friends!
Our Anniversary To Italy – Trip Report Index:
Part 13 – Activities in Varenna, Italy
This post will highlight various activities in Varenna, which include:
Exploring Bellagio
Finding Fiumelatte & a Picturesque Walk by our Hotel
Activities In Varenna
1.   Villa Monestero
In the evening, we went to Villa Monastero which was a grand old villa with beautiful gardens.  Daraius loved walking in the gardens!
If you stay in the Villa, you don't pay the 5 euro (~$7) fee to enter the garden or 8 euro (~$11) fee for entrance to both the garden and museum.
The gardens were very beautiful and well maintained, and had pretty views of the lake.
The gardens were expansive, and you could spend at least an hour walking.  They stretched all the way along the coast of the lake.
There was beautiful architecture that highlighted the garden's natural beauty.
There were pretty sculptures throughout the grounds.
Many varieties of flowers and plants could be found.
It was very peaceful.
I went into the villa and explored all of the rooms and bedrooms, while Daraius preferred to walk in the garden.  There was a monastery on the land previously, but a wealthy man purchased the land and tore down the monastery and built the present villa.  Only a small part of the original monastery was preserved.
The villa is decorated with opulent Baroque Italian furniture, and was in good condition.  There was an old bathtub, which I particularly liked.
I also enjoyed the view from the master suite, but the terrace was blocked off and in disrepair.
2.   Ferry Boat Cruise Around Lake Como
After lunch, we went to the ferry stop…
and got on a boat that stopped at the different villages.  The Rick Steves' Italy guide suggested hopping on and off boats as they stopped at the different towns.
It cost 3.7 euro (~$5) for a 1-way ticket or 15 euro (~$20) for a 1-day pass which lets you hop on and hop off the boat anytime.
We stopped in Menaggio, Bellagio, Lenno, Trezzano, and a few other towns.
We enjoyed seeing the small villages nestled in the mountains from the boat.
I loved how the buildings don't overshadow the natural beauty of the surrounding mountains.
Everything was so beautiful and peaceful.  The towns looked like the perfect place to just relax!
There were also some mansions along the waterfront.  Daraius and I dreamed it would be our retirement home one day!
It was difficult finding out the ferry schedules since the time tables were very confusing.  Luckily, Daraius figured it out.  But we did miss one of our stops becasuse we were not by the door of the boat waiting several minutes before it docked.
3.   Exploring Bellagio
We got off at Bellagio…
and went exploring.  There were lots of shops along the waterfront, and hotels too.  We went into town and up the stairs…
wandering through the town.
Pasticceria Gelateria Caffe Bar Sport
We went back through the town and stopped at a gelateria called Pasticceria Gelateria Caffe Bar Sport.
Inside, there were lots of cute chocolates and candies…
and I thought it was a perfect place to get some gifts for friends and family back in the US.
I also got a chocolate gelato ice-cream and Daraius got a granita.  A granita is an Italian-style flavored ice drink.
We chatted with the owners who told us about how his father started the shop and that the recipe for the gelato was their father's.  They also explained that their granita machine was 43 years old and how they used to hand grind the ice and the gelato before the machine!
They asked where we were from, and were familiar with Kansas.  We chatted about Frank Sinatra and Dean Martin.
Afterwards, we continued walking along the narrow cobblestone streets and made our way to the dock for our boat back to Varenna.
4.   Authentic Italian Cooking Class At Ristorante Il Caminetto
On our last day in Varenna, Daraius had a surprise for me.  He didn't give me any hints, only that we had to be at the town plaza at 10:00 am.  I had a couple of hunches.  My first hunch was a cooking class and the second was hiking.
This was one my 2 hunches from the Rick Steves' Italy guidebook.  But I knew it was not hiking when he told me I could wear any kind of shoes.
In the morning, we walked to the plaza after having breakfast at the hotel.  It was a 20 minute walk to the ferry pier.  We waited for a few minutes and then a van came to pick us up.  I still wasn't 100% sure of our destination, until we went up the mountain alongside windy roads, and finally stopped at a restaurant.
The Ristorante "Il Caminetto" building looked like someone's house.  It actually was the chef's house and he ran a restaurant and cooking class on the 1st floor and lived upstairs!
The cooking class costs 50 euros (~$68) and includes transportation and a VERY heavy lunch and afternoon snacks and drinks.  You meet at 10:00 am at the ferry dock and are dropped back at ~3:30 in the afternoon.
We entered the restaurant and were immediately greeted by the owner, Chef Moreno.
Here's a video of the chef making Tortellini!
The inside of the restaurant was very welcoming.
There were italian cookies and water waiting for us.  The chef came around and introduced himself and asked us if we wanted anything to drink (coffee, tea, soda, etc).  I got a cappuccino.
The chef started off by showing us how to make fresh pasta by taking durum wheat flour and mixing it with eggs.
He formed a volcano with the flour and then hand mixed the eggs.
During his class, he stressed the importance of feeling the food with your hands and fingers and that good cooking was to "make love" to the ingredients!
He chatted about what it was like growing up in Italy.  And how his family went to the US to live, before returning to Italy to care for their parents.
We also learned how to make tortellini and were able to take part in this lesson ourselves.
In between his stories, we learned about how to make the ricotta cheese filling (mince garlic, mix in the ricotta, and add the fresh herbs).
The chef put the ricotta cheese filling into rolled-up parchment paper.
Then squeezed the perfect amount onto each pasta square
Then we got to shape the tortellinis!  Our tortellinis weren't perfectly shaped, but we enjoyed learning how to make them.
Then it was time to make sauce for the pasta.
The chef showed us the various ingredients of sausage, peppers, onions, tomato sauce, herbs, and tomatoes for the sauce.
He chopped up the ingredients…
and then cooked it all together!
It looked, and smelled, delicious!
It was also fun to chat with the other people taking the class with us.  There were two Americans working in Germany who were on holiday with their parents in Italy.  Another couple had their own organic vegetable garden and inspired me to try to grow my own!
After eating the pasta, we were served some sliced meats, cheese, and bread.
I really liked the meats, cheese, and breadsticks!  Next we were served pancetta wrapped cheese which we had earlier made.
This was delicious but we imaged that it was very fattening!
We also learned about the history of the restaurant.  And how the chef's family used to carry all of the water to their home because they did not have running water.  They even had a farm in the back of the house!
Eventually, the small restaurant was converted into a larger one, which is what we saw today.
There was also a nice selection of wine.  We were served both red and white house wine throughout our meal.
We then had our second course, which was the linguine with Italian sausage and tomatoes.
Everything was so fresh and it really tasted homemade – nothing like the dried uniform pasta we see in the US with canned sauces.
You could taste the fresh garlic, basil, and tomatoes.
We were getting full, but had to eat what we had cooked!  So we ate some tortellini with zucchini, sage and butter.  It was delicious.
Chef Moreno then served us Limoncello and made us some espresso.  I asked if sambuca (a digestive liquor) is common in the bars, and he offered a taste from his bottle that he had in the restaurant.
It was anise flavoured but sweeter, and it was delicious to sip on slowly.
After lunch, the chef dropped us back to Varenna with stops at the Ferry dock and in the town square which was near our hotel.
5.   Finding Fiumelatte
After the cooking course, we walked to find Fiumelatte, a small river near our hotel.
We walked along the coast and peered down into the beautiful and expansive gardens of Villa Monestero.  We saw a family by the beach, with the father feeding the baby with a bottle, and the mother relaxing.
We saw some old Italian flats along the coast that were locked up and in disrepair, and wondered why no one lived there and why they were not for sale.  The views were quite amazing!
We couldn't find Fiumelatte, so we asked for directions in a store.  We were warned that there might not be much to see because it was dry.
After meandering through the cobblestone streets, and walking up and down, we finally found the stream.
Just as was predicted, the river was dry.  But there was a small trickle of water.
We continued to follow the path across the bridge, and continued back towards our hotel.  The path was made of dirt and stone, and I wasn't sure exactly where it would take us.  It was fun to explore though, and we went through a short tunnel.
We saw another old abandoned house, went past a very, very small train station, passed some grape vines, and saw a cemetery.
There were fresh flowers by the graves.
It would be a nice place to be buried, with the beautiful lake below!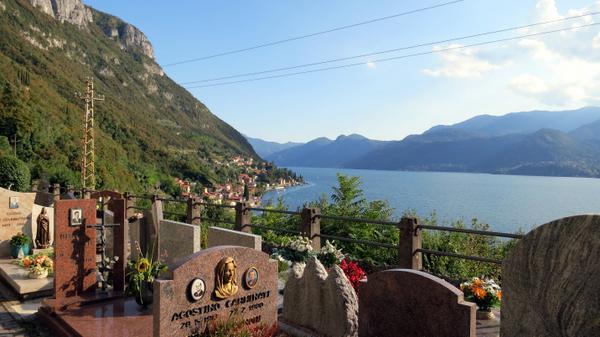 We continued on, and were pleasantly surprised to find that our hotel was nearer that we thought!
Bottom Line
Varenna was Daraius' favorite town in Italy!  He loved the peaceful lake views, the friendliness of the people, the boat rides to different towns and eating lots of food at the cooking class!
Editorial Note: We're the Million Mile Secrets team. And we're proud of our content, opinions and analysis, and of our reader's comments. These haven't been reviewed, approved or endorsed by any of the airlines, hotels, or credit card issuers which we often write about. And that's just how we like it! :)