Signing up for credit cards through partner links earns us a commission. Terms apply to the offers listed on this page. Here's our full Advertising Policy.
Update: One or more card offers in this post are no longer available. Check our Hot Deals for the latest offers.
With winter right around the corner, a Caribbean vacation is your chance to warm up and get some sun.  Most destinations in the Caribbean are ~80 degrees all year-round, even when it's cold at home!
There are lots of ways to save money to the Caribbean from the East Coast with budget airlines.
I'll give you ideas about how to save money on your paid flights!
I'll show you which low-cost airlines are really the best deal.  But 1st let's look at how to find the limited-time sales!
Get Cheap Flights With Last-Minute Fare Deals
Link:   How to Use Google Flights
Link:   How to Use ITA Matrix to Find Cheap Flights
Link:   The Flight Deal
Great deals pop up all the time to places like Italy, Iceland, Peru, London, Puerto Rico, and Orlando.  And sometimes you can find cheap flights to the Caribbean!
When these fares pop up, they usually don't last long.  But if you want a cheap getaway, you can often get an outstanding deal!  
Most folks know how to book a ticket with an online travel agency like Kayak, Expedia, or Orbitz.  I like to search for cheap fares using Google Flights or ITA Matrix, then book them on the airline websites.
Here's how to use Google Flights to find sale dates.  And for folks who want something more advanced, here's my guide on how to use ITA Matrix to find low fares.
A site I like to watch is The Flight Deal.  If you see a cheap fare to a place you want to visit, be ready to book!
Budget Airlines to the Caribbean
I like to save my miles for long-haul award flights in Business Class and First Class because they're very expensive.  And pay for certain short flights with cash instead of miles.
The Caribbean islands are only a few hours on a plane for lots of folks on the East Coast.
And you can get great deals all year when you're ready for a getaway!
If you decide you do want to use your miles, you can book flights with American Airlines miles, British Airways Avios points, and United Airlines miles.
Let's look at some budget airlines that fly South.
1.   Southwest
Link:   Fees on Southwest
Southwest recently started flying to these Caribbean destinations:
Aruba
The Bahamas
Dominican Republic
Jamaica
Puerto Rico
Folks can fly non-stop to the Caribbean from these East Coast cities:
Atlanta
Baltimore
Orlando
And folks in other cities can connect to get down to the Caribbean.
I found non-stop round-trip flights from Baltimore to The Bahamas in February 2016 for ~$279 round-trip per person!  That's a great price for a vacation!
And folks with the Southwest Companion Pass can bring a friend or spouse with them for only the cost of taxes and fees!
I also love other perks of flying Southwest like:
NO change fees
NO cancellation fees
2 free checked bags on every flight
So if you think your plans might change, or if you want to check bags, be sure to factor that in when you consider these fares.
2.   JetBlue
Link:   Fees on JetBlue
A friend of mine loves to fly on JetBlue because they have:
More legroom in coach
Tasty snacks
Lots of TV channels including live sports
JetBlue recently added fees for checked bags but there's a way to work around them.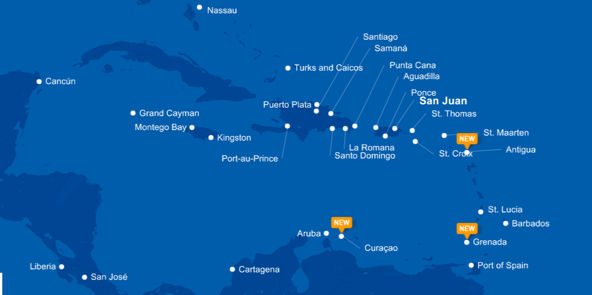 You can fly to lots of places in the Caribbean including:
Aruba
The Bahamas
Barbados
Dominican Republic
Haiti
St. Croix
St. Lucia
St. Thomas
Folks in Boston can fly to St. Thomas for ~$388 round-trip!  And another nice perk is you won't need a passport to travel to the US Virgin Islands!
Check out JetBlue's interactive fare map and their Deals page, especially if they're 1 of your preferred airlines!
If you don't fly JetBlue often, remember you can credit your flights to Singapore Airlines to earn Singapore Airlines miles!  That's useful because you can use Singapore Airlines miles to fly on United Airlines to place like…the Caribbean!
3.   Norwegian
Link:   Fees on Norwegian
Did you know Norwegian flies between the US and the Caribbean?
I found non-stop round-trip flights from New York to Guadeloupe in the French Caribbean for ~$287!
You can also fly to Martinique for a similar price!
These flights can be a fantastic deal if you can pack light, and there's free Wi-Fi on all Norwegian flights.
But be aware Norwegian charges extra for checked bags, and reserved seats.  Still, if you can find a cheap ticket, this can be a fantastic deal!
4.   Frontier Airlines
Link:   Fees on Frontier Airlines
Frontier only flies to 2 destinations in the Caribbean, Punta Cana in the Dominican Republic, and Montego Bay in Jamaica.
That said, the prices are reasonable.
I found round-trip flights to Punta Cana over Valentine's Day for ~$366!
Frontier is another no-frills budget carrier, so expect to pay extra for checked bags, carry-on bags in the overhead bin, or seat reservations.  And keep in mind there might not be much legroom.
If you can find a good deal it might be worth it, even with the added fees.
5.   Spirit
Link:   Fees on Spirit
Spirit is known for their fees for nearly everything including checked bags, printed boarding passes, assigned seats, and even water in-flight.
They serve lots of destinations in the Caribbean and have many fares for well under $400 round-trip from many cities along the East Coast, including:
Atlantic City
Boston
Fort Lauderdale
Myrtle Beach
New York
Orlando
Be aware that most of these flights connect in Fort Lauderdale.
For example, I was able to find round-trip flights from New York to San Juan, Puerto Rico, in February 2016 for ~$343.
Sometimes Spirit has great sales and you can find tickets even cheaper.  If you can find a deal, it might be worth it!  But don't expect a lot of legroom.  Spirit is notorious for its tight seats.
Earn Points With the Right Credit Card
Remember to use a card that will earn you bonus points:
And, remember some of these cards offer travel insurance for things like trip delay and cancellation, and delayed baggage!
Get Free Hotel Nights With These Cards
Link:   Where to Stay Using Points in the Caribbean
Link:   Hot Deals – Hotel Credit Cards
If you book a cheap flight, remember there are lots of ways to get cheap or free hotel rooms with points from credit card bonuses and spending!
Don't forget, you can use points to stay at lots of gorgeous hotels in the Caribbean.
You can use Hyatt points to stay at fantastic all-inclusive resorts in Jamaica!  Hyatt is a Chase Ultimate Rewards transfer partner.
To find hotels that can be booked with points, I use Hotel Hustle (which shows you if rooms are actually available!) or AwardMapper.
Remember, you can transfer flexible points like Chase Ultimate Rewards or American Express Membership Rewards to different hotel programs.
Read my posts on all the ways to earn Hilton and Hyatt points!
Here are 5 fantastic Starwood hotels in the Caribbean and Mexico to check out.
Folks with Citi Prestige can enjoy their 4th night for free at many hotels, including all-inclusive hotels.  Because these resorts can cost $300+ per night, you can save a lot of money with this perk!
Note:  Folks who want to book paid stays could check out discount sites like Orbitz, Expedia, or TravelPony for deals.  But remember you won't get stay credits or points (and might not have your elite status recognized!).
And don't forget Airbnb is a great way to save money on accommodations, especially for longer stays.  Here are some tips on how to negotiate a better Airbnb price, and how to find a safe Airbnb where you'll feel comfortable!
Bottom Line
With so many budget airlines offering service to the Caribbean from the East Coast, there's no reason why you'd ever have to pay more than a few hundred dollars per person for flights to somewhere warm and sunny for vacation!
Budget airlines that fly to the Caribbean include:
Southwest
JetBlue
Norwegian
Frontier Airlines
Spirit
You can also use American Airlines miles, British Airways Avios points, and United Airlines miles, although I like to save mine for long-haul award flights in Business Class or First Class!
Check sites like The Flight Deal to find cheap flights as soon as they pop up!  Be ready to book, because seats tend to sell out fast!
Let me know if you're planning a beach trip soon!