Signing-up for credit cards through partner links earns us a commission. Here's our full Advertising Policy.
For folks who like to fly Delta, or their partner airlines, using Delta miles to book award flights can help them get Big Travel with Small Money!
But in the last couple of years, Delta has made changes to its award flights and award pricing, making booking award flights trickier and more expensive.
I'll show you step-by-step instructions on how to use the Delta website to book award travel on Delta and their SkyTeam Alliance partners!
How to Search for Award Flights on Delta's Website

Link:   Delta
Link:   Delta SkyMiles
Delta loyalty members earn and use miles in the Delta SkyMiles program.  If you're not a member, sign-up for free on the Delta website.

1.   Booking Rules
A few tips about Delta's award booking rules:
You can book round-trip or one-way flights
Delta does NOT charge last-minute booking fees
Delta does not allow stopovers or open-jaws on award flights
Delta does not charge a telephone booking fee, so call 800-221-1212 if you need help booking your flights!
Because Delta does not have international First Class, you can't use Delta miles

 

to book First Class on Delta's SkyTeam Alliance partners
2.   Award Flight Regions
Unfortunately, Delta no longer publishes an award chart!  This makes determining award prices with Delta miles very confusing.  But Delta does publish award regions, which can be helpful when booking an award flight.
Even though Delta does not publish award flight prices, the cost of an award is still based on the regions you're traveling between.
Keep reading to see how you can determine typical award prices based on your regions of travel!
3.   Create a Delta SkyMiles Account
If you don't already have a SkyMiles account, creating one is free and easy!  Visit Delta.com and click "Sign Up" in the upper right corner.
Note:   You do NOT need a Delta SkyMiles account to search for award flights.
Then fill out your information on the following page.
When you're done, press "Complete," and you're ready to book award flights!
4.   Searching for Award Flights
The best way to find flight awards is to search on Delta.com.  Delta makes searching for award flights quick and intuitive.  And I love that you can search for flights without signing-in or even having a Delta SkyMiles account.
If searching for award flights, remember to select the "Miles" box under "Show Prices In."  Additionally, I like to search with "Flexible Dates" to show me how many miles different flight awards might cost.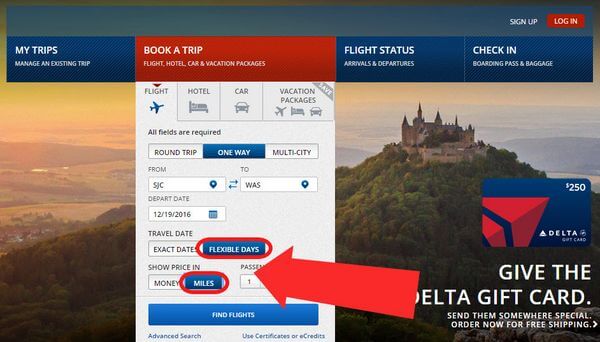 For example, I found the following possibilities when looking at flight awards from the Los Angeles to Tokyo with the above search criteria.
If you like the results, choose a date to view specific flight details.  And remember to look at the taxes and fees!
On the following page, Delta will display all available flights with award seats.  But keep an eye out for the "Lowest Fare" tab, because some flight options can be more than twice as expensive as others!
For example, the above search has results ranging from 35,000 to 95,000 Delta miles for 1 person!
From this screen, you can easily compare award flight prices for coach, Delta Comfort+, and Delta One / Business class.  And look carefully!  Sometimes Delta Comfort+ or Business Class flights will cost the same amount of miles as flying in Coach!
If you want to view the details of a flight, click "Details"  in the bottom left.  This will show flight numbers, plane type, layover information, and more.
Additionally, you can choose "View Seats" to view seat maps and what seats are still available.  Some folks love this feature, because they can ensure there are seats next to one another when traveling with friends or family!
For the more advanced, you can customize your award search using the tool bar on the left side panel.  You can even search by in-flight amenities, connection airports, maximum layover times, and more.
If you want to make even more adjustments to your flight search, you can click on "Advanced Search" to further narrow down your results.
In Advanced Search, you can choose Delta or partner airlines, flexible calendar (up to 5 weeks), and other flight award search options.
If you find the award flight you want, select your chosen itinerary and class of service.
Then, confirm your details before continuing to passenger information and payment.
At this point, you will be prompted to log-in to your Delta SkyMiles account (if not already logged-in) to confirm your booking.
5.   Determining Award Prices by Checking 5-Week Calendars
Because Delta does not publish an award chart, it can sometimes be tricky to determine general award prices for a specific flight.  And because Delta's flight awards cost varying amounts, it's hard to know what the lowest available prices are.
The trick to determine award prices is to search for award flights over a 5-week period.  Then, compare the lowest available prices to find the cheapest options.
Note:   This strategy will not always work, especially during peak travel times.  If you search for award flights to Hawaii over Christmas, the results will probably be skewed!  To be certain you have the cheapest flights available, try searching for 5-week periods across several months.  This can help you identify how many Delta miles you'll need at the cheapest times!
If you prefer, you can take a look at Delta's old award charts for 2015.  These prices are just a guideline, because many award flights have increased in price or are very out of date.  Keep in mind that these prices are for round-trip travel!
These older charts can be found in an article from One Mile at a Time.
Region definitions also become increasingly important, because they help distinguish award prices for different flights.
For example, a 5-week search shows the cheapest flights in coach between the continental US and Japan priced at 35,000 Delta miles one-way.  This means that award flights between the US and the region of "Northern Asia" (including China, Japan, Korea, etc.) will cost a minimum of 35,000 Delta miles one-way.  After searching across several other months, we verified that this is the cheapest ever price for these award flights, not just during those 5 weeks!
Note:   Delta sometimes has sales on award flights!  During these sales, award flights will often cost fewer Delta miles than usual.
Flights between the US and Bangkok in the region of "Southern Asia" (Thailand, Indonesia, Singapore, etc.) price out at a minimum of 40,000 Delta miles.
Therefore, that's the fewest number of miles you can expect to pay between the US and the "Southern Asia" region.
Note:    Based on these searches, we conclude that the minimum prices for one-way coach award flights from the continental US to Northern Asia and Southern Asia are 35,000 miles and 40,000 miles respectively.
The same strategy works for any flight award search using Delta miles.  But be careful when searching for domestic flight awards within the US!  Flights with short distances often cost considerably less than longer flights!
For example, the following search for domestic flights proves that Delta award flights within the continental US can cost as few as 12,500 Delta miles.
But most short flights can be much cheaper than 12,500 Delta miles.  For example, I found the following flights between San Francisco and Los Angeles.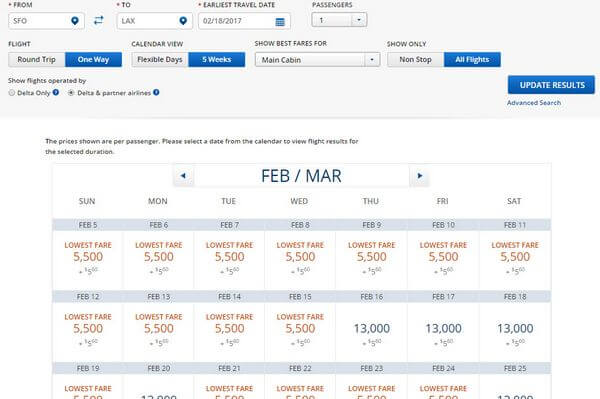 And some flights can cost as little as 5,000 Delta miles, such as between Seattle and Los Angeles.
So be careful when booking domestic award flights, because Delta charges less miles for shorter flights!  The best way to get your Delta award flight prices is by searching between the cities you want to travel.
For more details on the lowest award prices for Delta and Delta's partner airlines, check out this article by Drew at Travel is Free.
6.  View Partner Airlines to Find Award Prices
Another option to determine flight award price ranges is to try finding flights on Delta's SkyTeam Alliance partners.  This can be helpful because Delta always prices partner award flights at the lowest level.

For example, the following booking from Washington, DC, to Paris shows award prices at 30,000 miles one-way in coach, and 70,000 miles one-way in Business Class.

We know this flight is a partner booking on Delta's SkyTeam Alliance partner Aeroflot (SU).  Because Delta award flights on partner airlines always price at the lowest level, we know flights between the continental US and Europe will cost a minimum of 30,000 Delta miles one-way in coach and 70,000 Delta miles one-way in Business Class.
Note:    Even with the low cost in miles, I would still avoid these flights because of the expensive fuel surcharges!
Searching across a range of 5 weeks or finding flights on Delta's SkyTeam partners can be a quick way to determine general award prices.
Strategies for Booking
1.   Complex Itineraries
Delta's award search tool is NOT very helpful for piecing together complex itineraries.  So you will probably need to call Delta to make complicated award bookings.
Try searching for your longest segments first, and take note of any available flights that you find.  Then, call Delta at 800-221-1212 any time.  The Delta customer service representatives are very helpful, and they can quickly help you find flight award options.
Note:   Delta previously charged extra fees for booking award flights over the phone.  But they stopped charging this in the last year!
2.   Trends for Finding Award Seats
Delta lets you book flight award ~11 months ahead of time.  To find the most award flights, try searching as far in advance as possible.  Additionally, Delta partners will often release additional award flights in the week or 2 leading up to departure.
If possible, try to book your award flights as soon as you can.  But if you can't book ahead, sometimes award flights become available at the last minute.  And remember, Delta does NOT charge last-minute booking fees!
3.   Avoiding Fuel Surcharges
Delta award flights will sometimes be subject to high fuel surcharges that can cost hundreds of dollars.  Specifically, Delta imposes these fuel surcharges on Delta flights originating outside of the US and on certain partner airlines.
If you can, try to avoid using Delta miles to fly the following airlines because they impose high fuel surcharges:
Aeroflot
Air Europa
Air Tahiti Nui
China Airlines
China Eastern
China Southern
Kenya Airways
And remember to always check the taxes and fees on a specific award before deciding on flights!
Award Search Tools to Help
If you can't find award seats that fit your schedule, you can consider setting an award alert with an award searching tool.  An annual premium membership to one of these tools ranges from $75 to $129.
But if you frequently book award flights, it can be a worthy investment!  The following 3 tools are the most commonly used:
Each of the above tools has the capability to search for award flights on Delta's SkyTeam Alliance partners.  But if you still need help finding specific award seats that aren't available (yet!), consider using one of these Award Booking Services.
Bottom Line
Delta lost trust from many loyal customers when they removed their award charts.  But by searching for award flights across 5 weeks, you can easily view the cheapest award flights available.
And Delta miles can be very valuable when using them to book award flights on Delta's partner airlines. Awards on Delta partners are always priced out at the lowest level!
But remember that some airlines will charge high fuel surcharges, so avoid those if at all possible!