The secret to getting the discontinued Ritz-Carlton credit card — and 4 reasons you need it
Signing up for credit cards through partner links earns us a commission. Terms apply to the offers listed on this page. Here's our full Advertising Policy.
I was just reflecting back on a post I wrote last week about an undervalued Priority Pass benefit, and it inspired me to write this post. The Ritz-Carlton™ Credit Card is one of my favorites in my wallet for a number of reasons, which I'll cover here.
The problem is that it's not available to new applicants. But if you follow the simple method below, you can get the card — and potentially even 100,000 Marriott points, to boot, if you take action in the relatively near future.
Here's why the Ritz-Carlton Card is one of the best travel credit cards, and how you can get it.
Why you should get the Chase Ritz-Carlton Card
The Chase Ritz-Carlton Card is loaded with benefits upon which I won't expound in this post, such as:
You can call those bonuses, though none of them are reason to get the card, in my opinion.
Totally unique Priority Pass benefits (worth potentially $1,000+)
This is a three-parter.
1. The most generous Priority Pass guest privileges
The Chase Ritz-Carlton Card comes with Priority Pass membership. That means you can waltz into 1,300+ airport lounges worldwide for absolutely free. This is a benefit that costs $429 on the Priority Pass website, so it's quite a valuable perk.
However, the Chase Ritz-Carlton is the only credit card (to my knowledge) to offer unlimited free guests. Most other cards offer a maximum of two guests — and if you pay for membership through Priority Pass, you'll have to pay $35 per guest. But with this card, you'll be granted entry whether you and your spouse are traveling alone or you're shepherding your bachelorette party through the concourse.
2. Unlimited free Priority Pass memberships
The Chase Ritz-Carlton Card allows you to add authorized users for $0. That's startling, because authorized users get their own full Priority Pass membership, including unlimited guest privileges. One of my friends recently got married and I seriously considered making him an authorized user on my Ritz because Priority Pass would be such a good gift — and worth like $500+, I might add.
3. $112 in free airport food every time you visit a participating restaurant
I just wrote a post on this subject, but it's what spurred this entire article.
Another benefit of Priority Pass is the ability to give you $28 in free food at participating airport restaurants. But you are also allowed to bring one guest, and receive an additional $28 in free food for them. That's $56 off your airport food bill — not bad!!
But if you make your travel buddy an authorized user on your Chase Ritz-Carlton Card, their Priority Pass membership will also entitle them to their own $28 off their bill. If they claim you as their guest, they'd also get $56 in free food. You would likely have to explain the situation to your server, but it shouldn't be much of a problem.
This method would mean your party would receive $112 in free food. You can use this trick as often as you visit participating restaurants — and even use it at multiple restaurants during the same connection if there's more than one participating location in the airport.
Read the details in this post to learn more.
$300 annually in free airfare
The Ritz-Carlton card offers up to $300 in statement credits for "airline incidentals." They define these purchases as things like checked baggage fees, inflight Wi-Fi, seat upgrades, etc. The sweet spot here is seat upgrades. Let me explain.
Unlike many other cards that offer reimbursement for incidental fees, the Chase Ritz-Carlton Card's statement credit doesn't automatically trigger when you make a qualifying purchase. Instead, you just send Chase a secure message (here's our post about how to send Chase a secure message) and offer proof that you used your credit in a manner that qualifies.
You can use this reimbursement to receive $300 in airline credit:
1. Find a cheap fare with American Airlines that also has business/first class seats costing ~$300 more than the coach ticket. You may have to toy with dates and locations, and check both one-way and round-trip to get favorable prices. I found one after about three minutes of searching. If you read my post on how to find the cheapest flights to anywhere, it'll help you out.
2. After you find one, click on the coach fare. Before you get to checkout, American Airlines will prompt you to upgrade your seat. Take a screenshot of it, and then click "Upgrade."
3. You'll now buy the ticket.
4. In a couple days, when the transaction posts to your online Ritz statement, you can secure message Chase explaining that you bought a ticket with your card and would like to use the $300 incidental credit to offset the upgrade cost. With the above screenshot, I'll get $300 refunded to my card, meaning I've paid $117 for a round-trip first class ticket between Los Angeles and Las Vegas.
5. Sometimes travel plans change — it happens to the best of us. You may have to end up cancelling your ticket due to unforeseen circumstances. Thankfully, U.S. airlines have much more generous cancellation policies nowadays, so by cancelling the ticket I would receive $417 in AA flight credit. That's $417 in flights for $117, thanks to the Chase Ritz-Carlton Card.
Note: Check out this trick with American Airlines flight credits before you cancel a paid AA flight.
Free five-star hotel night with Marriott annually
Every cardmember anniversary, you'll receive one free night certificate worth up to 50,000 Marriott points. That's a huge deal. 50,000 points can get you a free night at some of the fanciest — and most expensive — Marriott hotels in the world.
See, Marriott's award chart has eight categories. The higher the category, the fancier the hotel. With the Chase Ritz-Carlton's 50,000-point annual free night, you'll have your pick of Category 6 hotels with standard rates, and Category 7 hotels during off-peak dates. My wife and I just used my annual free night to stay at The Royal Hawaiian, a Luxury Collection Resort, Waikiki. It saved us ~$430.
But you can save a ton more, depending on where you stay. For example, the London EDITION is a Category 7, and charges ~$600 per night off-peak. Or the Ritz-Carlton Half Moon Bay, somewhat of a bucket list property in the miles and points community, routinely costs $1,000+ per night!
I plan to use next year's certificate at the JW Marriott Venice, which costs $580+ per night — the resort is on its own island right beside Venice, and the entrance can only be accessed by boat. The resort gives you free rides to Venice as often as you please.
Of course, you can use this free night at lower-category hotels, too. The certificate is valuable enough that you can use it at 98% of all Marriott hotels — that's 7,859 hotels to choose from.
The best travel coverage for the lowest fee
You might have heard that the Chase Sapphire Reserve® is the credit card with the best travel insurance. You'll be pleased to know that the coverage provided by the Chase Ritz-Carlton Card is identical — and its annual fee is $100 less expensive! Here's what you'll get:
3 steps to get the Chase Ritz-Carlton Card
If you're interested in the above features — an effortless $1,500+ in savings annually, by the way — here's how to get this card.
Step 1. Open any Chase Marriott credit card
The Chase Ritz-Carlton Card isn't available to new applicants — it hasn't been for years now. Because of this, very few people have the card. Nowadays, the only way to get it is to "product change" an existing Chase Marriott credit card account.
Chase offers two Marriott credit cards:
These bonuses are abnormally high, so if you're interested in the Chase Ritz-Carlton Card, now is the time to begin your journey. We estimate Chase points value to be 0.8 cents each, so you should be able to get $800 in value from 100,000 points — and much, much more than that if you know the best ways to use Marriott points.
For example, my wife and I received a value of more than 2.5 cents each when using our points for a free stay at the St. Regis Maldives.
Step 2. Wait one year after account opening
If you've already got a Chase Marriott personal card, this doesn't apply to you.
Your account must be open at least 12 months before Chase will allow you to product change. In other words, after your first cardmember anniversary, you can ask Chase to upgrade you to the Ritz-Carlton Card.
Note that you will not get a welcome bonus from the Chase Ritz-Carlton Card. You're simply turning your Marriott credit card into something else. By that same token, this will NOT count as an additional card to count against your "Chase 5/24" status.
Step 3. Have a total credit line of at least $10,000 with Chase
You'll need at least a $10,000 credit line to be eligible for the Chase Ritz-Carlton Card. My Bonvoy card didn't have a $10,000 credit line, but I had about $40,000 in credit with Chase. So when I secure messaged Chase to request a product change, I asked that they move some credit from one of my other Chase cards to my Marriott card. There were no issues, and I received my new metal Ritz card within a few days, flamboyant packaging and all.
Two cautions
Ensure you qualify for Marriott cards
The intro to this post explains some of the intricate application rules you need to know before opening a Marriott card. Read that to make sure that you're eligible.
You'll find in there the fact that you won't be eligible to open the Marriott Bonvoy Brilliant™ American Express® Card if you've held the Chase Ritz-Carlton Card in the past 30 days. Before you product change to a Ritz, I strongly recommend you open the Amex Marriott Bonvoy Brilliant, or you're leaving a perfectly good welcome bonus on the table. Plus, it's got some stunner benefits itself — I've personally got both the Bonvoy Brilliant and the Chase Ritz-Carlton.
Beware of adding authorized users
When you add someone as an authorized user on your account, you're giving them permission to spend your money. You're the one responsible for the bill, not them. Only add someone that you trust implicitly.
Also, when you add an authorized user, that is known to count against their Chase 5/24 count. Chase stipulates that if you've opened five or more personal cards (from ANY bank) in the last 24 months, you are ineligible to be approved for their travel credit cards. If they're denied because their authorized user status on your card has pushed them over their limit, they should be able to call Chase and explain the situation without issue.
Just make sure you're not messing up someone's credit card strategy by adding them!
Bottom line
So there you have it. The Chase Ritz-Carlton Card is valuable because:
Now's a great time to go for the Ritz, because the Chase Marriott credit cards all have giant limited-time bonuses. Why wouldn't you pick up 100,000 Marriott points??
Let me know if you've got the Chase Ritz-Carlton Card, and what you think of it. And subscribe to our newsletter for more travel tricks and credit card posts like this delivered to your inbox once per day.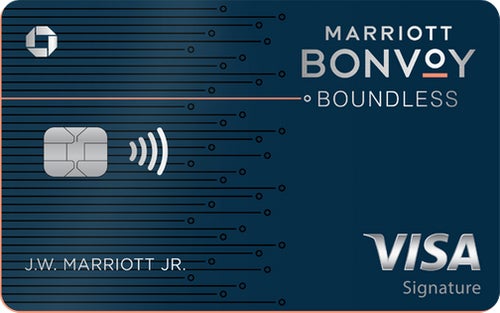 Welcome offer
Earn 3 Free Nights (each night valued up to 50,000 points) after spending $3,000 on purchases in your first 3 months from account opening
Why we like it
This card comes with a free night certificate worth 35,000 Marriott points each year after renewal. That perk alone makes the annual fee worth paying, as you can get hundreds of dollars of value from it. It also comes with 15 elite night credits every year, meaning it's significantly easier to achieve elite status.
Who is it best for?
This is great for anyone who stays at a Marriott at least once a year, especially those who can take advantage of the free night this card offers.
Credit Score Recommended
Credit ranges are a variation of FICO® Score 8, one of many types of credit scores lenders may use when considering your credit card application.
Good to Excellent
Details
Earn 3 Free Nights (each night valued up to 50,000 points) after qualifying purchases + 10X total points on eligible purchases in select categories.
1 Free Night Award (valued up to 35,000 points) every year after account anniversary.
Earn up to 17X total Bonvoy points per $1 spent at over 7,000 hotels participating in Marriott Bonvoy™.
2X Bonvoy points for every $1 spent on all other purchases.
Automatic Silver Elite Status each account anniversary year. Path to Gold Status when you spend $35,000 on purchases each account year.
15 Elite Night Credits each calendar year.
No Foreign Transaction Fees.
Earn unlimited Marriott Bonvoy points and get Free Night Stays faster.
Pros
Solid earning rate for spending at Marriott hotels
Free night at select Marriott hotels every cardmember anniversary
Automatic Marriott Silver elite status
15 elite night credits per year
Cons
Welcome bonus modest compared to other Marriott cards
Approval rules slightly convoluted
Reward Rate
Earn up to 17X total Bonvoy points per $1 spent at over 7,000 hotels participating in Marriott Bonvoy™
10X total points per $1 spent on up to $2,500 in combined purchases at gas stations, restaurants, and grocery stores within 6 months from account opening
2X Bonvoy points for every $1 spent on all other purchases.
APR
15.99% – 22.99% Variable
Credit Needed
Good to Excellent
Foreign Transaction Fee
$0
Editorial Note: We're the Million Mile Secrets team. And we're proud of our content, opinions and analysis, and of our reader's comments. These haven't been reviewed, approved or endorsed by any of the airlines, hotels, or credit card issuers which we often write about. And that's just how we like it! :)