We devote thousands of hours of research to help you get Big Travel with Small Money. You support us by signing-up for credit cards through partner links which earn us a commission. Here's our full Advertising Policy.
Update:   One or more card offers in this post are no longer available.  Check our Hot Deals for the latest offers. 
Chase has some of the best points and miles cards available. With them, you can get free nights at fancy hotels, award flights, or lots of flexibility, depending which cards you choose. 
But folks are concerned about applying for new Chase cards because of the stricter approval policies Chase will likely start enforcing in April 2016.
I'll explain the new rules.  And recommend which cards to consider.
We don't earn a commission on many of the cards in this post but we're committed to letting you know about the best offers!
What's Happening?
Link:   These Airline & Hotel Cards May Soon Be Harder to Get!
Chase has been tightening their credit card application policies since the last half of 2015.
There are rumors they'll apply stricter rules to to Chase small business cards like Chase Ink Plus and Chase Ink Business Cash Credit Card this month.  And to co-branded airline and hotel cards, like the Chase Hyatt, Chase IHG Rewards Club Select Credit Card, and Chase United MileagePlus® Explorer Card, starting April 2016.
The new rules say if you've opened 5 or more credit card accounts (from any bank) in the past 24 months, it's VERY UNLIKELY Chase will approve you for ANY of their credit cards.
Readers have commented to tell me this rule also applies if you're added as an authorized user to someone else's account.  While I can't confirm this, it's something to be aware of.
How Many Chase Cards Can You Have?
Folks are wondering how many Chase cards they can apply for before the new rules go into effect.
There are NO set rules for how many credit cards Chase will issue you.  It depends on your credit and payment history, your credit score, income level, and your relationship with Chase.
So there are a lot of factors that go into an approval.  However, if you have decent credit, and you haven't opened more than 5 new credit cards in the last 24 months, you have good chances of being approved for 1 or 2 more Chase cards.
But Chase will typically NOT approve folks for more than 2 cards in 30 days.
For example, I currently have 4 Chase cards.  And Emily has 5.
Friends of mine have 6 or even 7 Chase cards!  And while there is NOT a set limit on how many you can get, 6 or 7 is probably on the higher end of how many Chase cards you can get in total.
OK, So Which Cards Should I Get?
Chase has great credit cards that appeal to different folks based on their travel goals.
If You Want Flexibility
If you want the option to transfer your points to several airline and hotel partners, cards that earn Chase Ultimate Rewards points will give you the most flexibility.  For that reason, Chase Ultimate Rewards is my favorite points program.Cards that earn Chase Ultimate Rewards points are:
And if I had to pick 1, I'd choose the Chase Sapphire Preferred.  It's the top card I recommend if you're starting out with miles and points.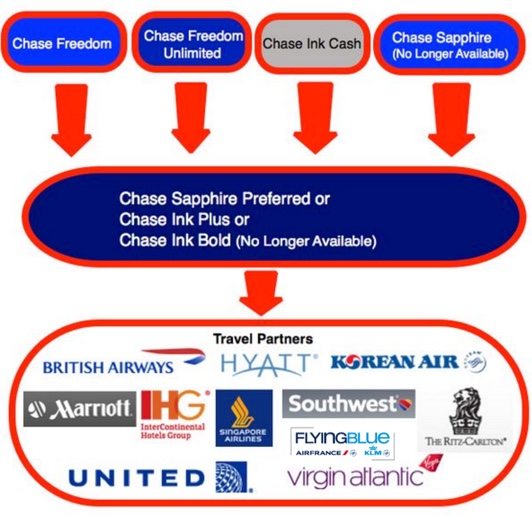 You can transfer Chase Ultimate Rewards to travel partners if you have the Chase Sapphire Preferred, Chase Ink Plus, or Chase Ink Bold (no longer available).
Chase Sapphire Preferred is a personal card.  And you'll earn 50,000 Ultimate Rewards points after spending $4,000 on purchases within the 1st 3 months of opening your account.
And Chase Ink Plus is a small business card.  You'll earn 60,000 Chase Ultimate Rewards points after spending $5,000 on purchases within the 1st 3 months of opening your account.
You don't need to earn lots of revenue to get this card.  As long as you aim to make a profit, it's worth putting in an application.  Here's how you might already qualify.
The Chase Ultimate Rewards points earned from Chase Freedom or Chase Ink Cash also transfer to airline and hotel partners if you also have a Chase Sapphire Preferred, Chase Ink Plus, or Chase Ink Bold.
Both the Freedom and Ink Cash cards have NO annual fee.  So they're free to keep forever, which can help to build your credit history and score.
Chase Freedom is a personal card with excellent 5% cash back (5X Ultimate Rewards points) categories that rotate each quarter.  You'll earn $150 (15,000 Chase Ultimate Rewards points) after spending $500 on purchases within the 1st 3 months of opening your account.
If You Want Award Flights
Some folks like to use their miles or points for award flights.  In that case, you might consider:
When you have the Chase Sapphire Preferred, you can transfer your Chase Ultimate Rewards points to airline partners including United Airlines, Singapore Airlines, and British Airways.
United Airlines in particular is an excellent option, because they don't add fuel surcharges to ANY of their award flights.  I don't like paying these nasty fees.  And you can get to almost anywhere in the world with United Airlines miles by using their miles to fly on Star Alliance partners like Air New Zealand, TAP Portugal, and Thai Airways.
If you have a small business, the Chase Ink Plus is a good choice.  You'll have access to the same travel transfer partners.  And can take advantage of the same deals on award flights.
There's also a great offer to earn a total of 100,000 British Airways Avios points with the Chase British Airways Visa Signature Card after meeting the tiered spending requirements.
British Airways Avios points are useful for award flights on partner airlines all around the world, especially short flights that are usually very expensive.
And if you like to fly United Airlines and their Star Alliance partners, the Chase United Explorer card is great for earning extra United Airlines miles and getting more award seats on United Airlines!  Plus, you (and a traveling companion on the same reservation) get a free checked bag when you use the card to pay for your ticket.
Note:   For folks who want easy domestic and Caribbean award flights with no blackout dates and the opportunity to earn the Companion Pass, consider Chase's Southwest cards instead.
If You Want Hotel Nights
And if you want award nights at hotels, Chase has that covered, too.
My favorite way to get free award nights is to transfer Chase Ultimate Rewards points earned from the Chase Sapphire Preferred or Chase Ink Plus to Hyatt.
Emily and I have had lots of memorable stays at Hyatt hotels, including the Park Hyatt Paris-Vendome, Park Hyatt Milan, and Hyatt Regency Maui.  Considering these hotels can be very expensive, you can save a lot of money by using your Chase Ultimate Rewards points for stays at Hyatt!
Chase also has cards for specific hotel chains, including:
With the Chase IHG Rewards card, you get a free night certificate each year on your cardmember anniversary.  And you can use it at ANY IHG hotel in the world!  That's a terrific deal in exchange for a $49 annual fee.
And if you like Hyatt hotels, the Chase Hyatt card comes with 2 free nights at ANY Hyatt after spending $1,000 on purchases in the 1st 3 months of opening your account.  Paid nights at the fanciest Hyatt hotels can cost hundreds of dollars, so the sign-up bonus alone can be worth well over $1,000!
There's also an offer to earn 80,000 Marriott points with the Chase Marriott Rewards Premier card.  That's more than enough Marriott points for 2 nights at Marriott Category 8 hotels like Waikiki Beach Marriott Resort & Spa in Hawaii and the Pier One Sydney Harbour, Autograph Collection in Sydney.
What About the Annual Fees?
All of the cards above, except for the Chase Ink Cash and Chase Freedom, have an annual fee.  But oftentimes, it's worth paying it, especially if you're making the most of the perks, like free checked bags or lounge access.
Also, if the annual fee is waived the 1st year, there's no reason to cancel the card immediately anyway.
But, if you decide to cancel, it's very easy.  There's no hassle.  Simply call the number on the back of your card.  At most, the agent will offer you points to keep the card or ask if you'd like to switch to a no-annual fee card.
Most of the Chase cards Emily and I have decided to keep have annual fees because of the ongoing benefits.
I like to keep a card for ~10 months and then decide if the card is worth the annual fee.  This also helps establish a good relationship with the banks.
But if you are completely opposed to trying an annual-fee card, consider these Chase cards:
Bottom Line
Chase has many of the best travel rewards cards available.  But starting April 2016, it will require more planning to get them because of tighter approval policies.
For that reason, I recommend getting 1 or 2 of the cards you want the most before then.  There's no real limit on how many cards Chase will let you have.  It depends on your credit history and how much credit they're willing to extend to you.
That said, I have friends who have 6 or 7 Chase cards.  I currently have 4 Chase cards.  And Emily has 5.
If you're getting started with miles and points, or want an all-around solid credit card, I recommend the Chase Sapphire Preferred card.  And Chase Ultimate Rewards points are my favorite kind of points.
Emily and I don't receive a commission for many of the cards we recommend in this post (or in general).  But we feel that telling you about the best deals is the right thing to do!